As I began thinking about doing the Nahanni trip (parts one and two) more seriously over the winter, I started thinking about weight, and specifically, how to carry it.  I have been super psyched over the last few years about the efforts that various vendors like Sea To Summit, Big Agnes, Black Diamond, Hyperlite Mountain Gear, and others have put into making backcountry gear super light.  This effort in accessories corresponded nicely with the development of modern packrafts, because even with light and compact boats, if you have a 4 pound sleeping bag and a 6 pound tent and a 7 pound backpack the weight would be crushing, if you could fit it all into a pack, which would be impossible (and the same goes for adventurous bikepacking).  That said, while I have been conscientious of weight, I haven't been quite as committed as I could have been, because there are are always ways to cut weight and a lot of backcountry travelers have geeked out super hard on pulling weight out of their kit.  The most impressive gram counters I've seen are basically going for months with packs that are as small as/smaller than a typical daily backcountry ski pack, which enables them to dramatically increase their hiking mileage more comfortably.   
A good place to start is the pack.  Historically, if you wanted a pack you got one from one of the main pack vendors:  The North Face, Osprey, Gregory, and (to a lesser extent) Kelty.  But my understanding (having come back to "backpacking" for packrafting not that long ago after kind of abandoning it in high school) is that a few years ago Hyperlite changed the game in a big way with two different tactics:  1) strip away all superfluous elements and 2) use really light – but strong  – material.  Before Hyperlite, empty packs were weighing in at 5, 6, even 7 pounds before putting anything in them!  All those stays, buckles, foam, adjustment straps, little compartments, lids,and the burly cordura fabric add up.  These days Hyperlite seems to continue to be the leader, but my experience with bumping into a few through-hikers (those folks doing the Arizona Trail, Pacific Crest Trail, etc) over the last few years is that there are lots of lesser-known, almost-garage type brands that are using the Hyperlite model of minimalism, and via the power of the interwebs their reputations and distribution have grown.  The traditional stores (REI, which as the juggernaut, influences the rest of the vendors (and in turn dictates the smaller shops) stick with their big vendors who in turn make products that REI wants, pushes, and sells in a convenient cycle (though they have recently started carrying Hyperlite), and I joke that you can always spot someone out for a weekend; they have packs (likely from REI) that are twice as big as the folks who are trundling along the PCT for months.  
Packrafting is a bit different, however; you need light gear, but only because you gotta carry more overall.  About the time I started packrafting I got a Gregory Stout 75 that was kinda in between, both in genres and construction:  It was mostly a big sack with one external compartment, but it has big stays, a big puffy waistbelt, big puffy back pad, lots of dangly straps, a lid, etc and is over 4.5 pounds empty, and despite the 75 liter size, I still had to strap my boat to the bottom.  I've done a lot of packraft trips with folks using Hyperlites, and while I was envious of the light weight, I was always a little wary of the packs; there's a point where "stripped down" becomes pretty uncomfortable, which is exacerbated by big loads, and I've seen people with pretty serious abrasion and grooves in their backs and shoulders after they've slung the packs to the ground at the end of the day.   So when I started thinking about this Nahanni trip that would involve steep, off-trail bushwacking with 2.5 week's worth of food I took a hard look at my Gregory and wondered two things:  was I willing to still carry the extra coupla/few pounds of that pack, and would this pretty well-worn pack be up to the demands of that trip?  Blowing a shoulder strap as deep as we were going into the wilds of the Yukon would be a big deal.  So I started sniffing around.  
Brother Paul was pondering these questions as well, and via the interwebs he found Superior Wilderness Designs, based in Northern Michigan (hence the clever double entendre of "Superior").  I was a bit surprised to see that they made a packraft-specific pack called The Big Wild that's an almost-unheard of 95 liters big.  I am acutely aware of the concept that getting a bigger pack means you just carry more shit, but I kinda figured that I was already carrying a 75 liter pack and strapped the boat on the outside anyway, so their pitch of being able to put everything inside the pack was appealing to me, since I've been known to have even more than just my boat dangling off my pack, just waiting to get grabbed by snaky and stout alders.  I definitely appreciate efficient packing and on a recent North Cascades trip I was amazed to see Tim Kelley fit his bulkier-than-normal Alpacka Valkyrie as well as all his paddling and camping stuff into his Hyperlite, but I am simply not that patient either at home or in the field to be able to get everything as super tightly wound and bound as possible to fit into too-small spaces, and the truth is that when you use really light material – as SWD does on all their packs – there's no real weight penalty to having a bigger pack.  I read a good review of the pack by a good geeky guy and decided to give the Big Wild a go. Which honestly, felt like kind of a biggish deal; these things last a long time, and I knew that I'd be using my next pack for likely many years.  
The fundamental theory of the pack is that it's a big, light, robust pack, and with that kind of size and therefore carrying weight, it's gotta have some nods to comfort or the wearer will be crushed.  So unlike Hyperlite packs, it's got pretty nice foamy shoulder straps, a nice foamy waist belt, and a perfectly sized (10"x11") foamy backpad.   Yet even at 95 liters of capacity, it weighs 2.75 pounds, taking two pounds off my kit.  Yet somehow taking off that 2 pounds and adding capacity the Big Wild pack was still as comfy as my Gregory, and more useable for me due to the size and the thoughtfulness that went into the design.  For example, the bottom side pockets that hold bottles, throw bags, and 4 piece paddles in on the side are actually accessible for me, which was a surprise; my inflexible arms can barely get my phone out of my cycling jersey pocket, but I can easily grab a bottle out of the Big Wild's side pockets.  And the little accessory straps that hold said paddles etc on the sides are a nice combo of easy-to-hook yet stay in place, and there are multiple attachment points (or you can ditch them completely; I hate sewn-in-place straps that are at-times superfluous).  The buckles for the waist belt etc are small, yet robust, with good easy adjustability on the fly.  I got the water bottle holder on the shoulder strap and the little accessory sack on the hip belt, both of which were both easy to access because they are closure-free (ie no zipper to futz with) yet are designed in such a way that nothing will fall out.  And if indeed 95 liters is not enough (one rainy morning I just couldn't get my shit together to get my boat inside the pack) there's just-enough external strappability and clipability on the outside it you need to hang some ornaments on your pack tree (I did use a Sockdolager bow bag to add some food capacity for the first couple of days, which attached just fine at some of the SWD's simple attachment points.)
So how did it work?  Basically, I was quite pleased.  I had some secret hopes that there was some miracle solution to avoiding shoulder soreness with a way too-heavy pack, and that was not the case:
but overall my comfort level was really good.   I would periodically snap up the chest straps and then undo them, tighten up the waist belt to alleviate the pressure on my shoulders (but that really shortens my stride, slows me down, and blows my hip flexors) and move the straps around, and it was totally fine.  One of our crew had the biggest Hyperlite and looking at his skin obviously bulging out around the edges of his straps I was quite pleased at how comfortable my pack was. 
One interesting aspect of the pack was that it is wider at the top; their theory is that   -contrary to one's intuition – having more weight up high is easier on your lower back.  Being someone who has had lower back issues (herniated discs, torn periformises, etc) I am pretty scared to blow my back out on a trip like that because it would likely be a trip-ender, and while some of the success of my back on this trip is a function of trying harder over the last few years to take care of it, my back was not sore at all with this pack.  And my new technique for getting up onto my feet unassisted with a heavy pack was conducive to this design:  I'd sit down in front of the pack, put my arms in and fasten the waist belt, then kinda roll over onto my hands and knees and press up (I think this is what they teach old people who need to get up after falling down!).  
The pack material seems pretty bomber; despite plenty of bushwhacking it looks brand new, and its waterproofness seemed to be fine. 
It rolls up vertically just fine so it fits well in the (smaller-tubed) Valkyrie tubes when paddling.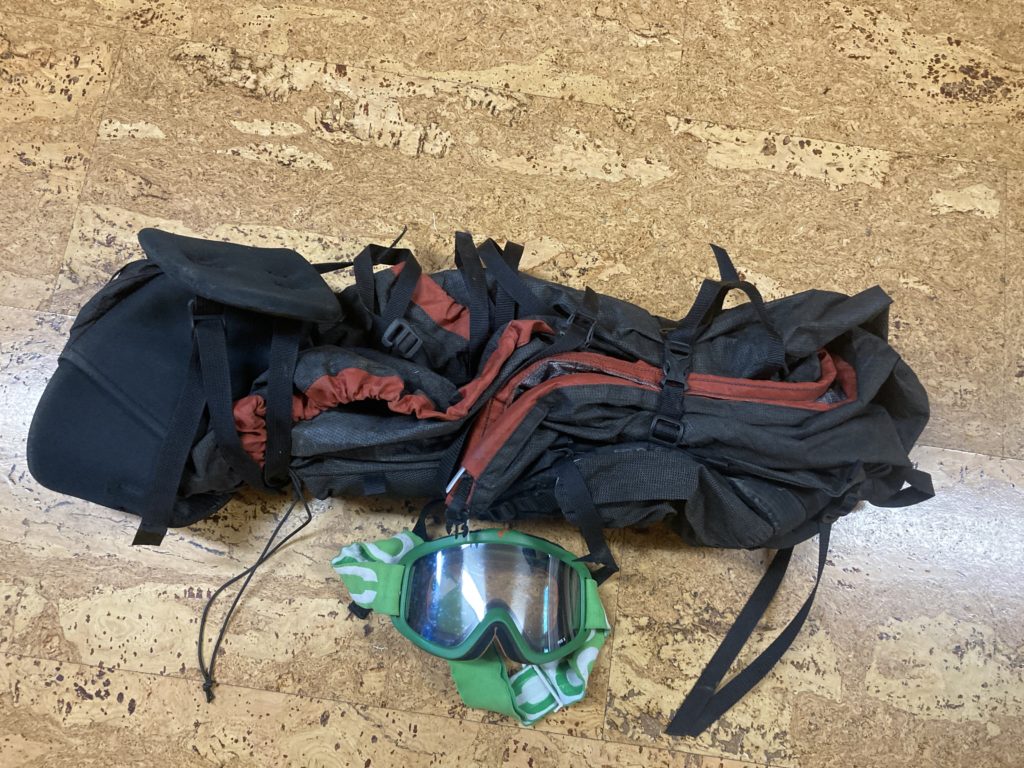 There are many times that I order/buy something a bit impetuously and have high hopes for it only to get a bit of buyer's remorse, but overall the Superior Wilderness Designs Big Wild is a dang good packrafting pack, and the truth is that it had a pretty significant impact on my decision to bring the Alpacka Valkyrie instead of the Wolverine; the Valkyrie is a bit bigger and heavier, but it's so fun to paddle that I wanted to bring it, and the coupla pounds I saved in my pack and the extra room in it allowed me to justify the fun of the Valkyrie. That said, I don't need 2+ weeks-worth of food to account for the large size of the Big Wild; I've also used it on an overnight (Zion narrows) and 3-4 day trips (North Cascades) and been able to put my pfd and helmet inside too to keep the package clean.
In my conversations with the super nice folks at SWD they felt the only drawback to the big Big Wild is that it's so big that it's a bit too specific to big haul trips, but really at 2.75 pounds (and I could pull a half pound off in straps/accessories if needed) it's almost as light as you can go anyway, and even if I'm just doing a regular ol' backpack hike sans boat and boating gear (like we did up to the Cirque of the Unclimbables) it's totally fine for that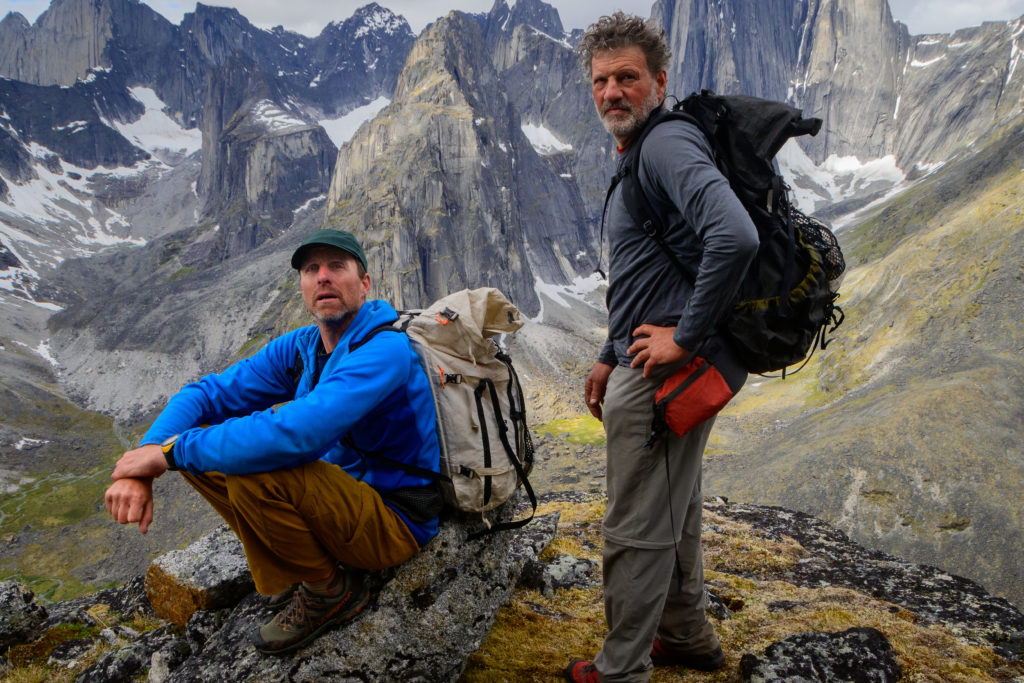 When doing a non-packraft trip I have so much more room to work with and don't have to grunt and groan trying to make everything fit! 
Despite the fact that it's a boutique brand/product it's priced right in there with any other packs on the market, and their great personalized customer service in ordering and getting the pack indicated to me that if/when I have a problem they'll be all over helping me out; good warranties and customer service has become far more important to me over my many years of breaking shit!   I don't think I need a through hiker-style backpack – the Big Wild is fine, and if I simply wanted to go that much smaller for a "fastpack" trip I have a couple of old ski packs I could probably use – but I have no doubt that their smaller packs are just as good for smaller loads/lighter weights.
Finally, after I got mine this spring Benj and Mike both bought the pack to replace their Hyperlites for this trip, and among the many topics that we discussed in 3 weeks together we talked about the packs and none of us could really come up with any complaints about the SWD pack, which is probably the best testimony of all.  Along with the fact that I can wear it and still balance a caribou skull and antlers on my head!