Here is the remainder of the tale of our Nahanni packraft adventure; part I is here.
To catch up, we started at Flat Lake and floated down the Little Nahanni to the South Nahanni, where we took out and hiked up and over some decent mountains to an unnamed tributary of the Broken Skull river, where we hiked a little ways upstream to a nice hot spring and the base of a big climb onto a ridge that we originally intended to ascend for a few days into the upper section of the Broken Skull. However, we realized that what looked reasonable on Google Earth to climb and hike along a high, dry ridge with big, food-heavy packs turned out to be a bit more than we were keen for, so we cut off that part of the trip and headed for the Black Wolf river. And as before, virtually all of the amazing pics below are the work of Benj, who's an exceptional photographer as well as being a great addition to a big trip.
One thing I neglected to mention in the first post is that we did not cook up this trip ourselves; much of what we did was done in 2017 by a Canadian group and an American group coincidentally quite close together. One of the great things about packrafting is the researching of ridges, drainages, and rivers to link up, and while we did some, we were definitely helped by the accounts of these two teams.
To get to the Black Wolf we needed to hike about 8 miles up a creek to a pass, where there was a very short descent to Grizzly Lake, which was the feed for the Black Wolf. What this meant is that we gained a fair amount of elevation on foot and lost relatively none, so all that elevation that we gained was going to be lost on the river. To be sure, the Black Wolf river is a smaller river than the Broken Skull, but the gradient – and the trip report from the two guys who had done it before us – indicated that it was going to have a bit more exciting whitewater to reach the confluence.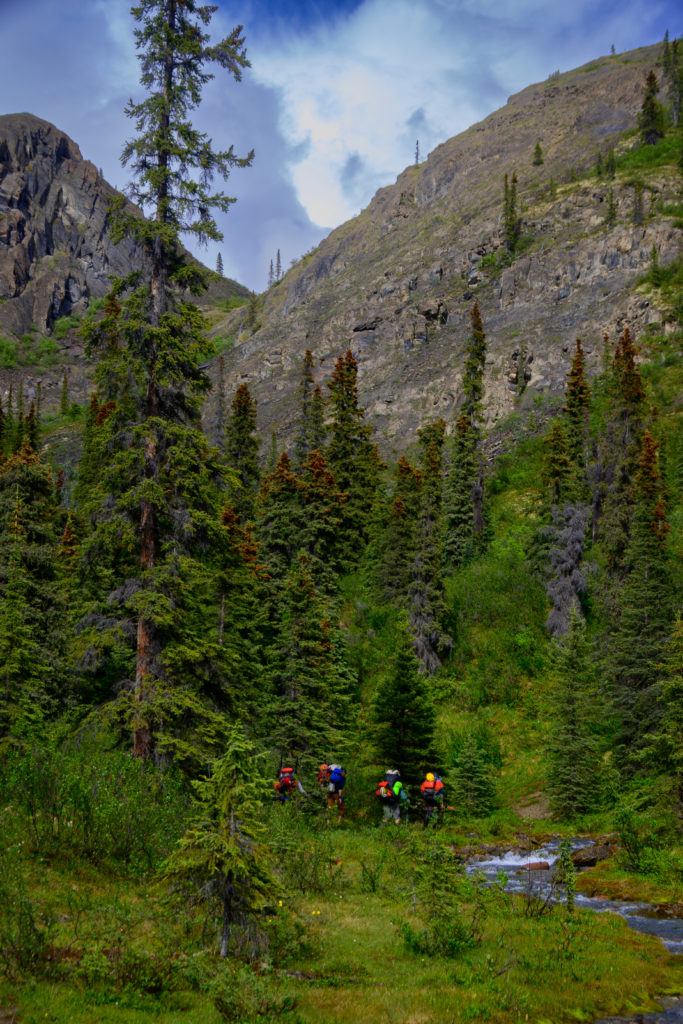 We were under the impression that there was a trail up the creek because there was a hot springs about six miles up (and the park service folks thought there was a trail) but there wasn't, but the creek pushed the local fauna onto its banks and there was a decent game trail that led us up to a nice hot spring:
Beyond the hot spring we continued to follow the creek up, and noticed that even as we were getting very close to the pass it still had a surprising amount of water in it. Eventually we realized why; the creek was bubbling out of a beautiful little spring, and we were surprised to see a bunch of full-sized grayling fish hovering around the outlet pool. As we were ogling at them, all of a sudden Paul said – not really yelled – "Bear. Grizz." There are few words said out in the backcountry that will cause a quick surge of adrenalin like "Bear. Grizz" and before I even turned my head I felt the buzz. Sure enough, there was a big ol' grizz, fortunately walking very unhurriedly away from us.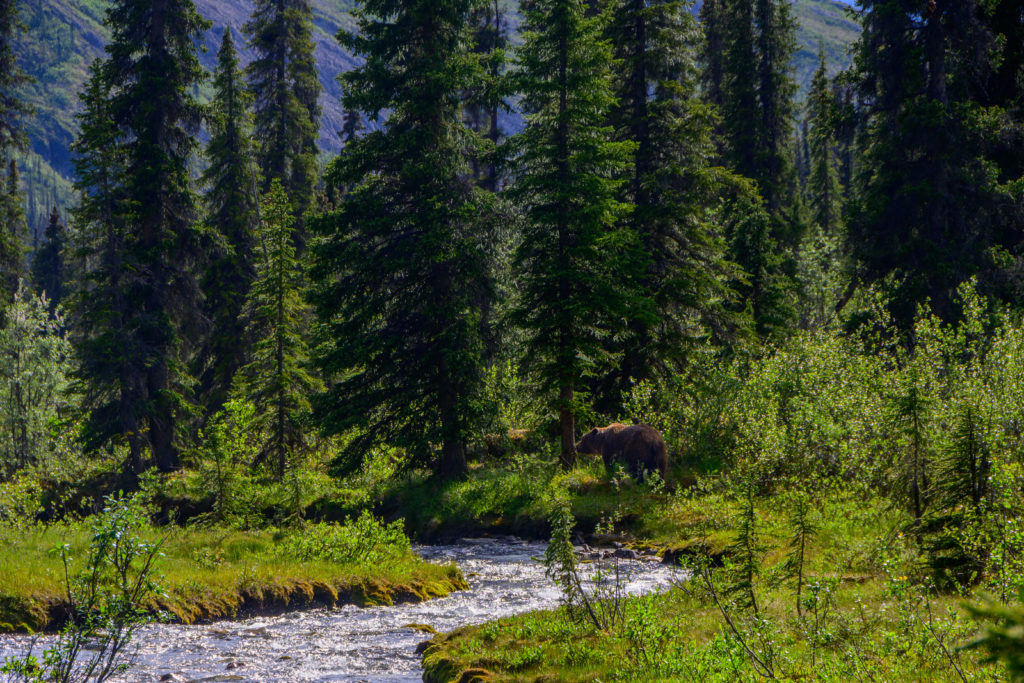 We were kinda hissing at each other since our first reaction was that we didn't want him (coulda been a her, tho it was alone) to hear us, but in hindsight it was so close to us (maybe 25 yards) and was just trundling down the game trail that we had just come up that he had to know we were near. But as if to prove how much he didn't care, he decided to scratch an itch on a spruce: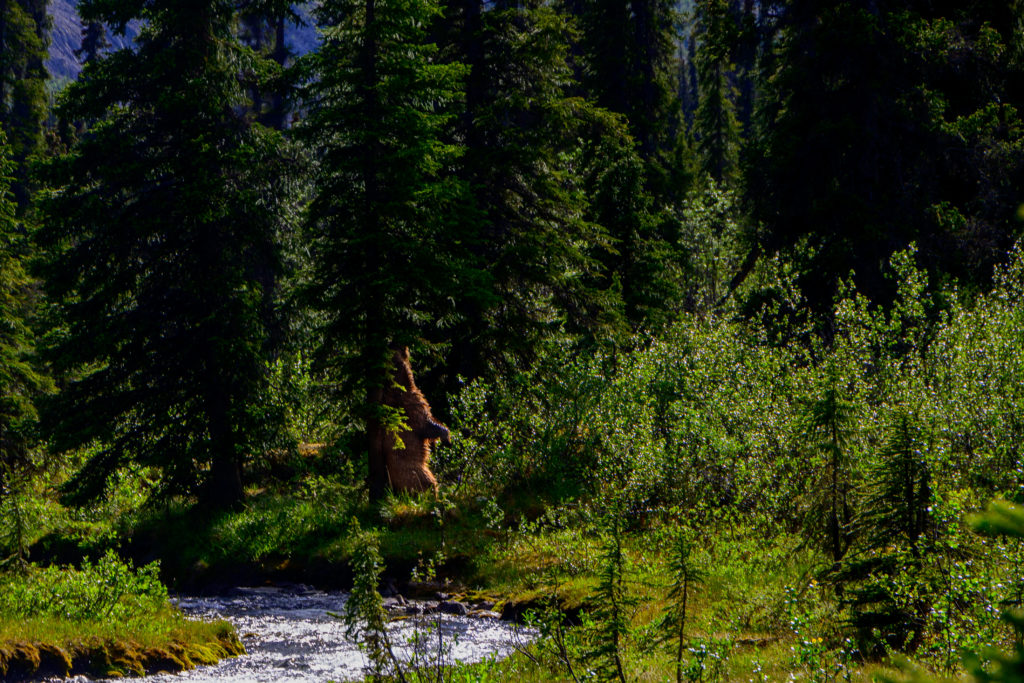 We were super fortunate: the spring was slightly off the trail that we had been coming up and would continue to use up to the pass, the brush around the trail was pretty tight so had we been on the trail we likely would have literally bumped into him, and for some reason he chose not to head for the spring pool where the grayling seemed like pretty easy pickins' for a hungry bear (and it was June; I learned from Roman Dial and my own experience that June Bears are notoriously grumpy). As exciting as it is to see any megafauna, much less a bear, much less a grizz, we were relieved to see him carry on down the canyon.
Up at the aptly-named Grizzly Lake (apparently it's bad luck to say "Grizzly Lake", which we had ignored; perhaps the great god Ursus heard us?) we had a nice camp and now with extra days at our disposal we decided to do a layover day to explore the mountains that loomed above us.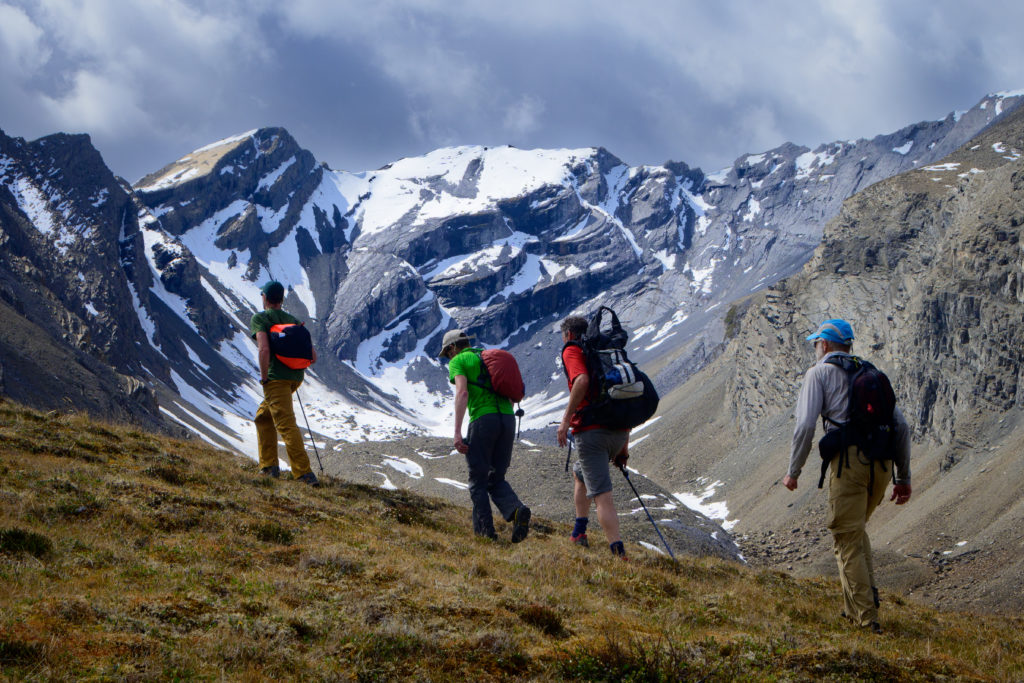 On our way up the ridge Mike spotted more fauna: a small herd of caribou a few hundred feet below us.
We watched them for a coupla minutes from afar and I said well, let's carry on, and Benj said "wait, let's see if they get any closer." Being accustomed to life in less-wild places (everywhere) I thought this was a bit silly; animals don't come closer of their own volition, right? But to my amazement they looked up at us and their curiosity got the best of them and sure enough they started heading up to get closer to gawk at us!
They'd stare for a bit, move a little closer, then dash across the slope, stop, gawk, grab a quick bite, tiptoe up a bit more, then dash back across, and repeat.
Eventually they got close enough, gawked a bit longer, decided that we weren't that interesting after all and headed back downslope. We were glad it was the caribou that took an interest and not Mr Grizz!
We hiked/scrambled up as far as was reasonable: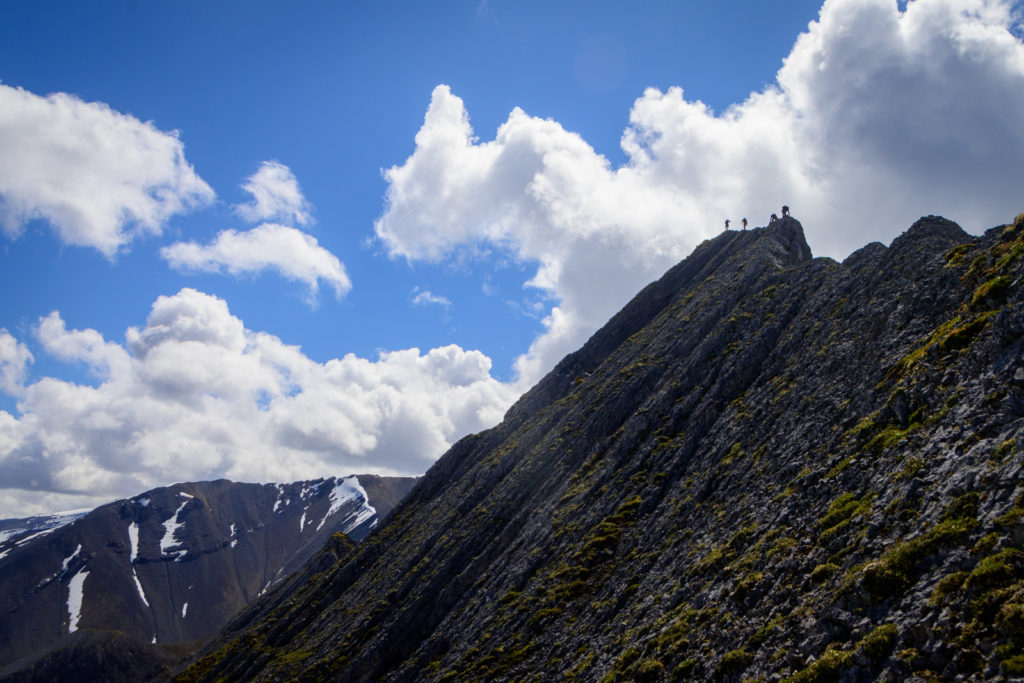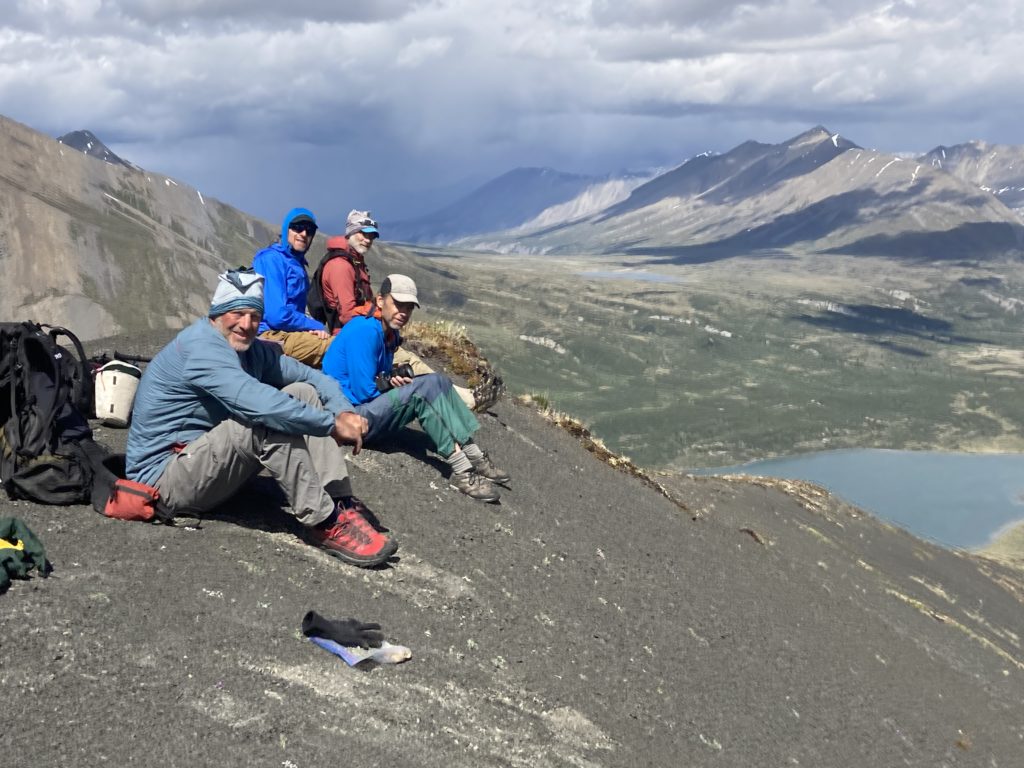 We finally were able to put on the Black Wolf, which started as a lake with a weird set of chairs:
And an ominous sign: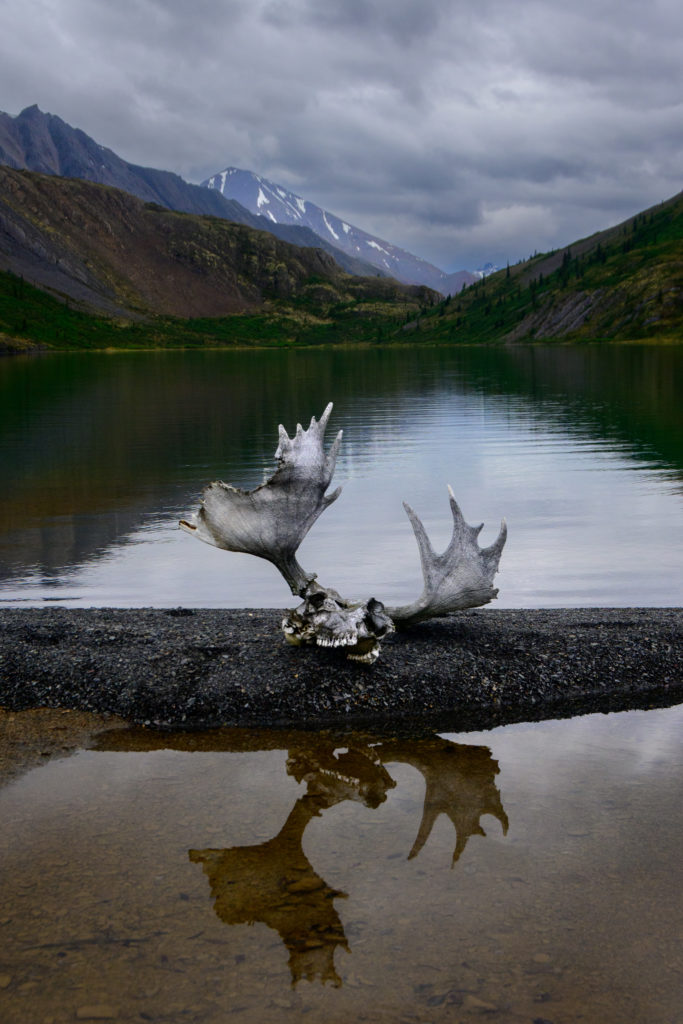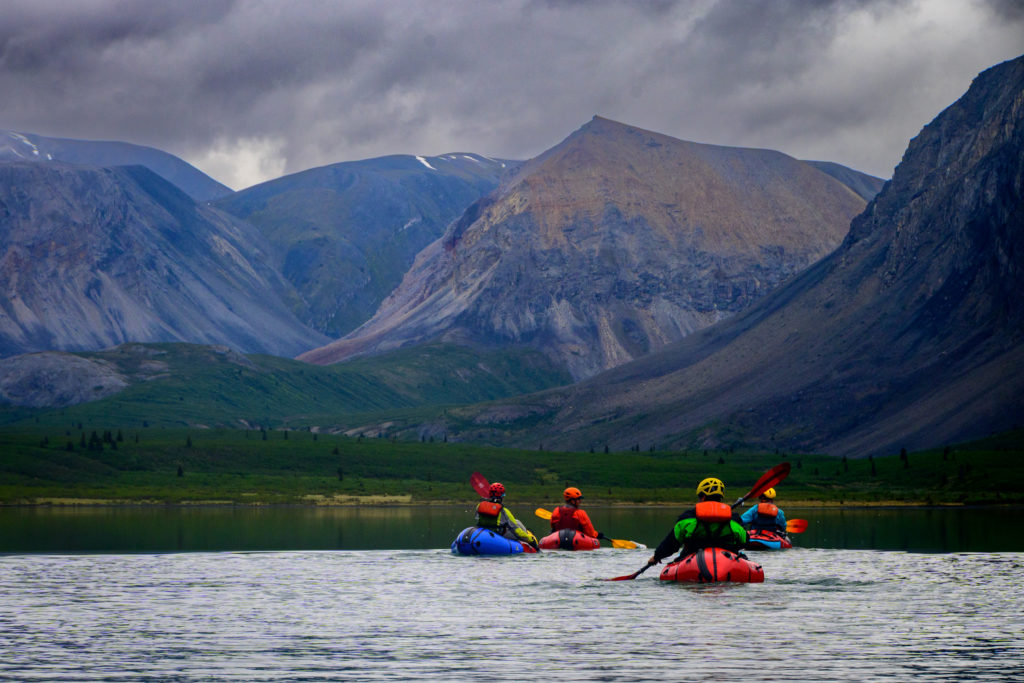 then a shallow little stream
Like most in that area, it started small and quickly picked up water, and also got a bit more challenging. In the first post I related the tale of Mike crashing on his shoulder a few days prior and he hadn't been able to test it much, so between the class 4 rapids, our concern about Mike, the remoteness that we all felt, and the fact that there was a gnarly class 5 gorge downstream we proceeded….mostly…carefully, though we realized that Mike was certainly even tougher than we knew: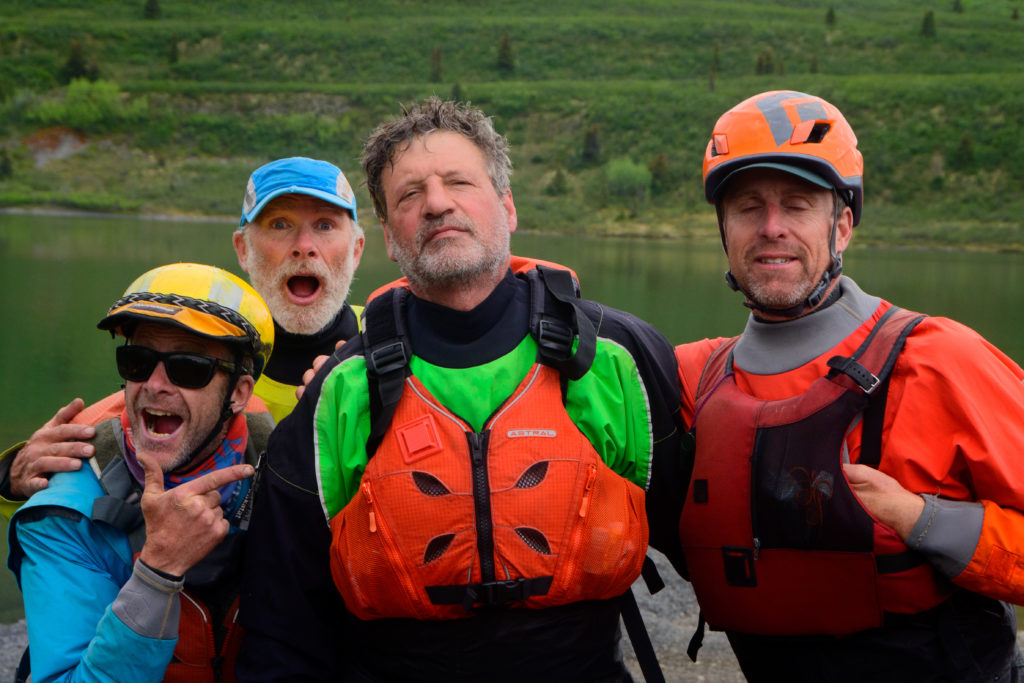 and all went well with mostly boat scouting on the fly through really good quality rapids in the class 3/4 range, while occasionally sneaking glances at the big mountains that loomed over us.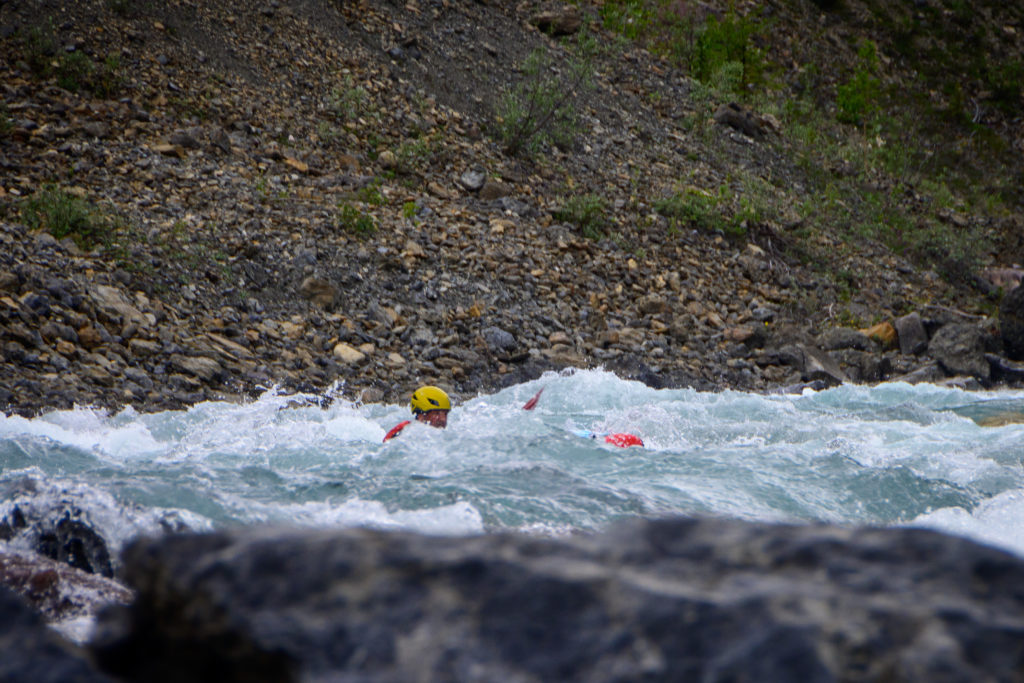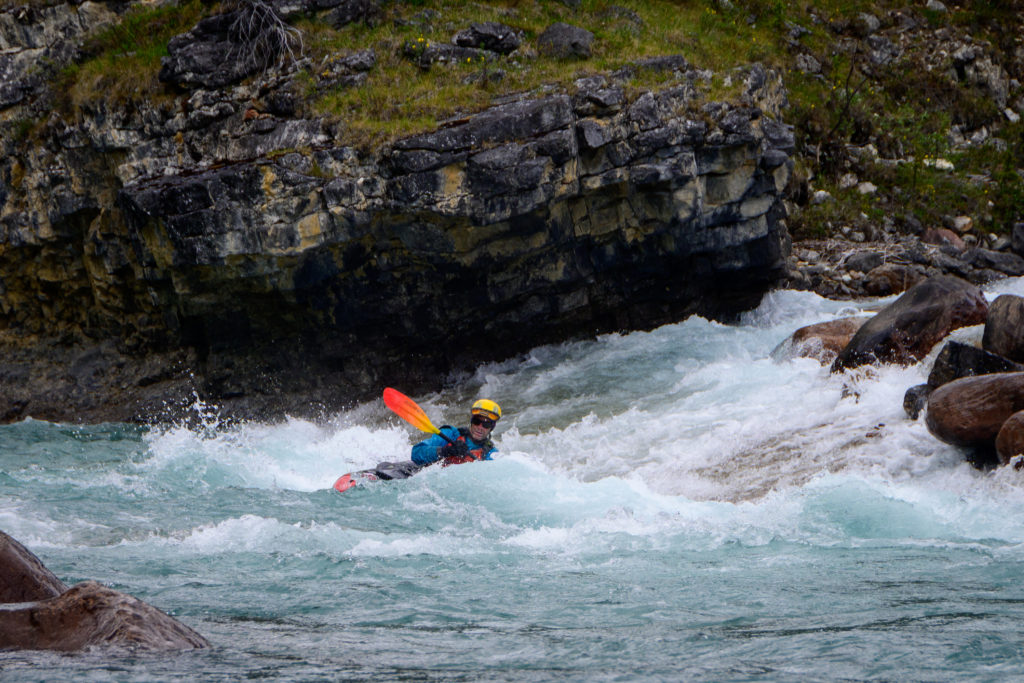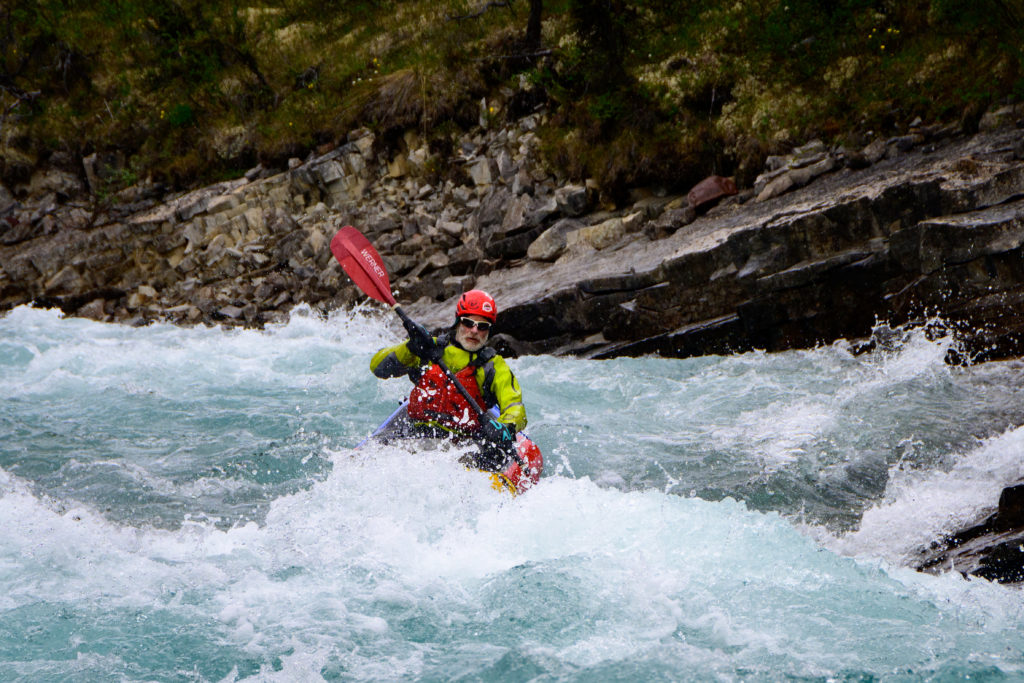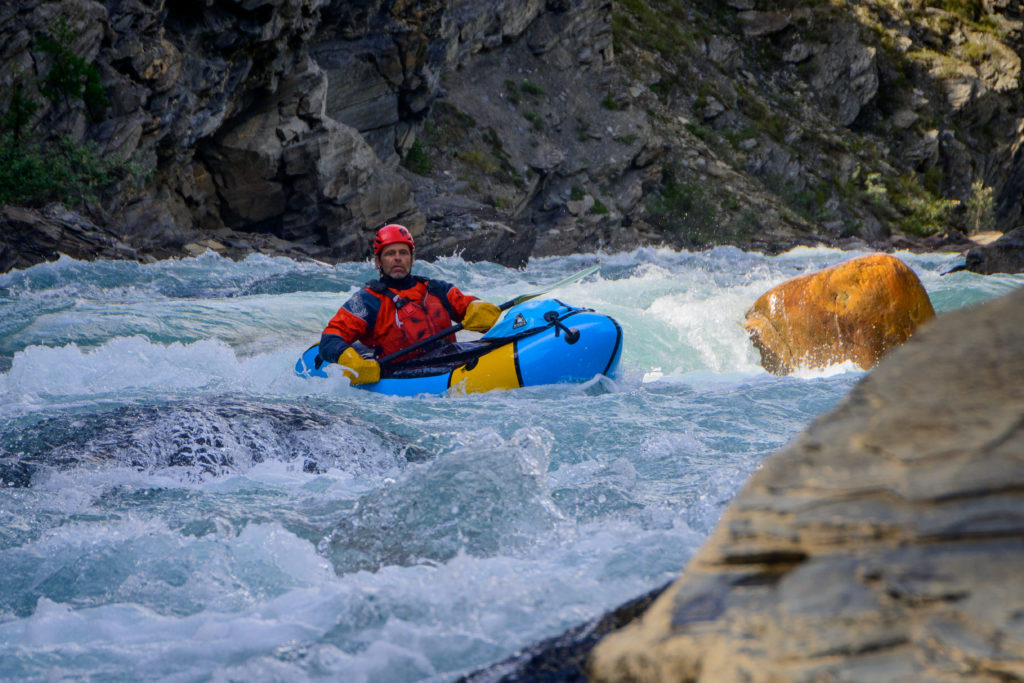 As expected, we did hit the class 5 gorge. Packraft portages are typically a bit easier than hardshell portages due to the boats' lighter weight and the ability to roll 'em up and hike with a backpack if the portage is long enough to warrant that. We thought this portage was on the short side, so we kept the boats on our shoulder, though ultimately it did seem a bit long and challenging:
One the map there were two significant tributaries that come into the Black Wolf about half and two-thirds of the way down, respectively, and we camped at the confluence of the second one.
That evening I walked up a ways to see that a gorge ended abruptly a few hundred yards from the confluence, and was intrigued. A few miles up was a named lake (Avalanche) but the creek had no name despite the obvious association with the lake, and all we had was a topo map and a good look at the flow, both of which looked promising for a little side trip adventure. We decided to give it a go so we rolled boats into our packs and went up into the gorge where we promptly came to a steep class 4+ drop that was kind of the exit of the gorge; we were able to climb out of the gorge via a gully, and once on top we got a good look:
It looked great. We carried on further ogling at the fun rapids below and trying to gauge their difficulty and the potential portageability in case we needed that option until the walls backed down to a long, broad, flat valley. Hiking up that to a beautiful alpine lake would have sounded great, but the lure of some exploratory creeking was pretty strong, so Greg and I blew up and headed down.
Greg is an extraordinarily strong outdoor guy who's proficient at so many things: climbing, skiing, hang gliding, glider-flying, mountain biking, home and skiing-related forestry, etc. But as we were popping on our skirts he said "I'm generally pretty comfortable doing a lot of things, but this – firing down a steep creek in a boat – is where I am The Most Comfortable." Which I knew, of course, and I was happy to follow.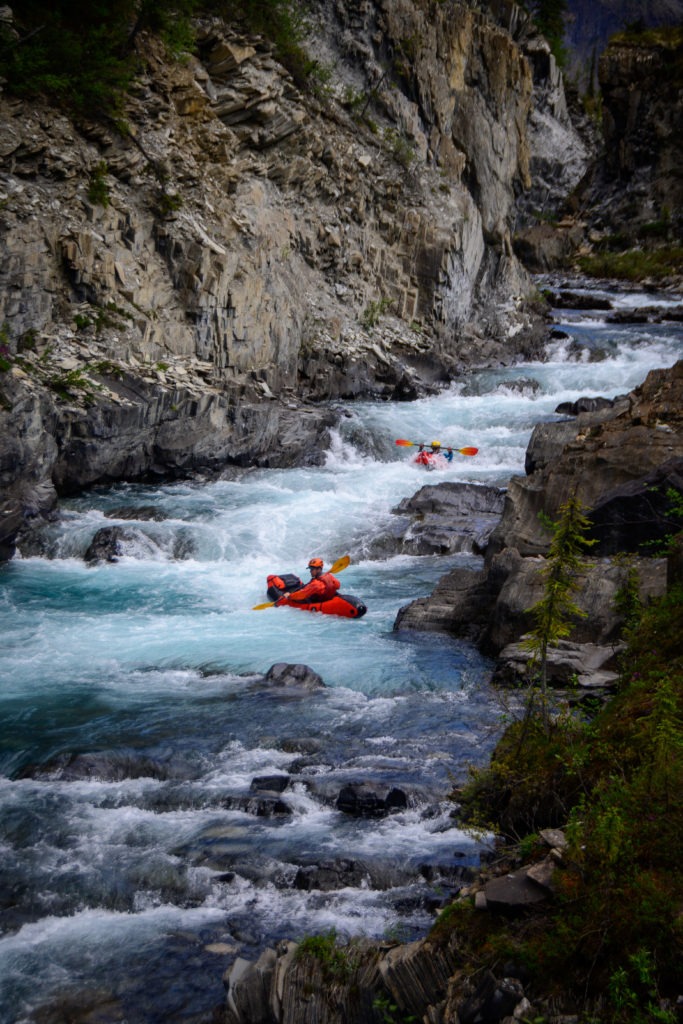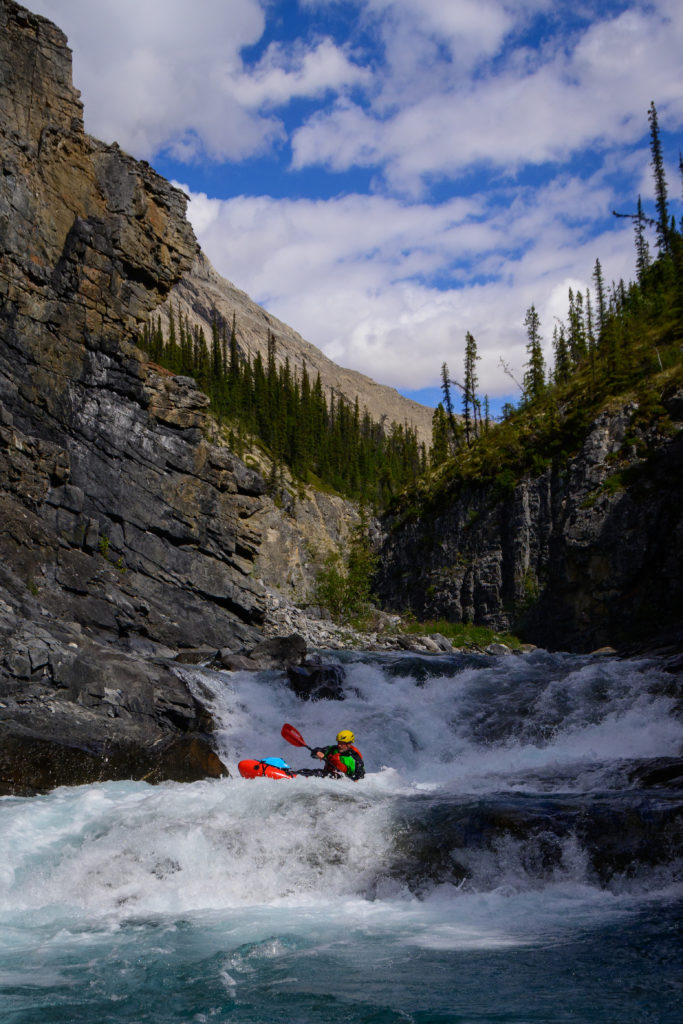 The gem of the run was a totally clean 18 foot waterfall:
Our morning complete, we floated the last bit out to our camp at the confluence, packed up, and headed down.
After a few miles of easy paddling we entered another, deeper gorge, and by this time the Black Wolf was a real river, so getting walled out was a likewise real concern. The info that we had from the first descenteers didn't indicate any problems there, but the dramatic nature of the canyon made us proceed cautiously, but it turned out to continue to be class 2/3, which continued on after the walls fell away to the confluence with the now-big Broken Skull river.
We floated the Broken Skull on down ten more miles to the even-bigger South Nahanni, where we had a few hours of lazy paddling to a random beach at a big tributary coming in; this trib drained out of Glacier Lake, which is the landing spot for climbers heading into the Cirque of the Unclimbables and our ultimate departure point. Again, we had been told there was a trail up from the river, and while we wandered around for a while near the river looking for said trail, we finally shrugged and started into the bush for some whacking.
By now we were at a pretty low elevation where there were even more plants to whack through, and it was slow going, and we seemed to be unable to find much of a game trail above the (stomping!) Glacier Lake creek. So onward we thrashed, and it picked up a bit in intensity when we got a rainstorm that was quite prolonged. However, even as we were soaked and were only making about a mile per hour, I felt confident that at some point we'd find at least some semblance of a place flat enough to camp, as unlikely as it seemed, if for no other reason than it got mildly-twilighty between about 1:00 and 3:00 in the morning and we could just keep on thrashing for many hours if we had to (by this time we were nearly out of food so our pack weights were quite reasonable).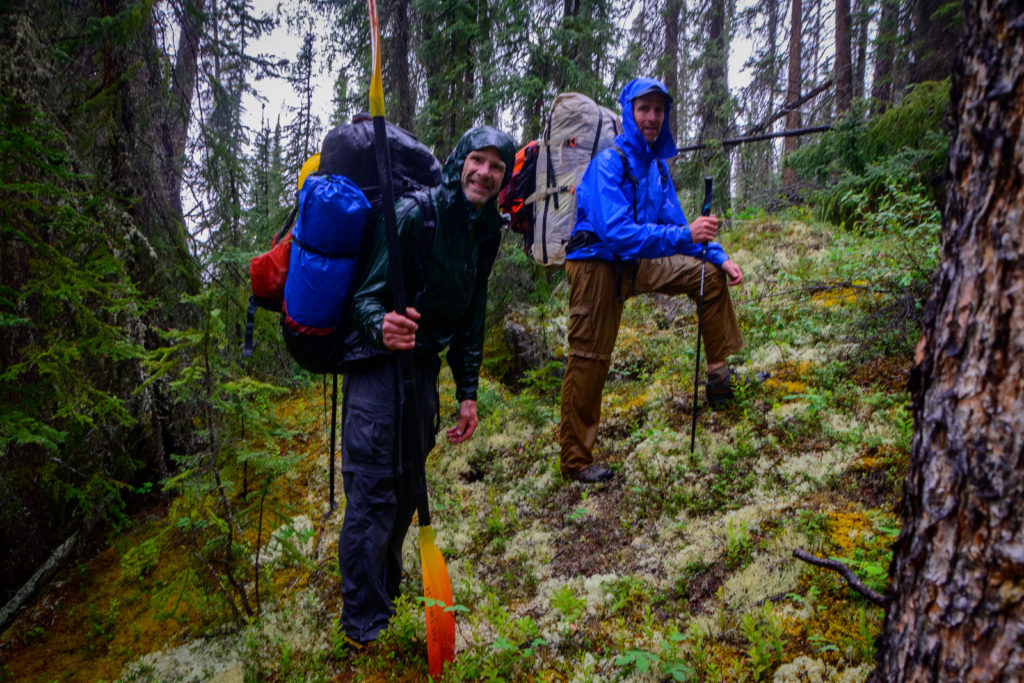 But sure enough, we found a reasonable spot to camp just after it stopped raining, and within minutes we were dry with our last freeze dried dinners "cooking" merrily. It was at this point that Mike went off a few yards into the woods to whizz, and suddenly we heard "Oh. My. God!" What??! We scrambled over about 15 yards and there….was a trail, with a little hiker sign on a tree. Somehow we'd missed it! Ah well. Made for a funner adventure.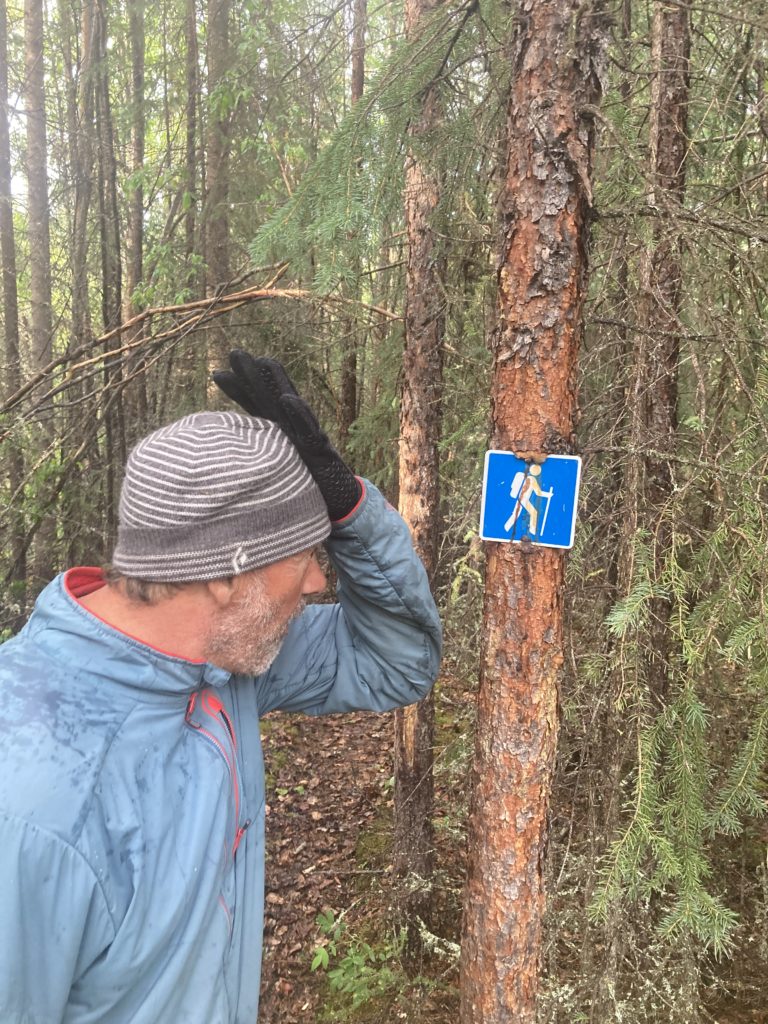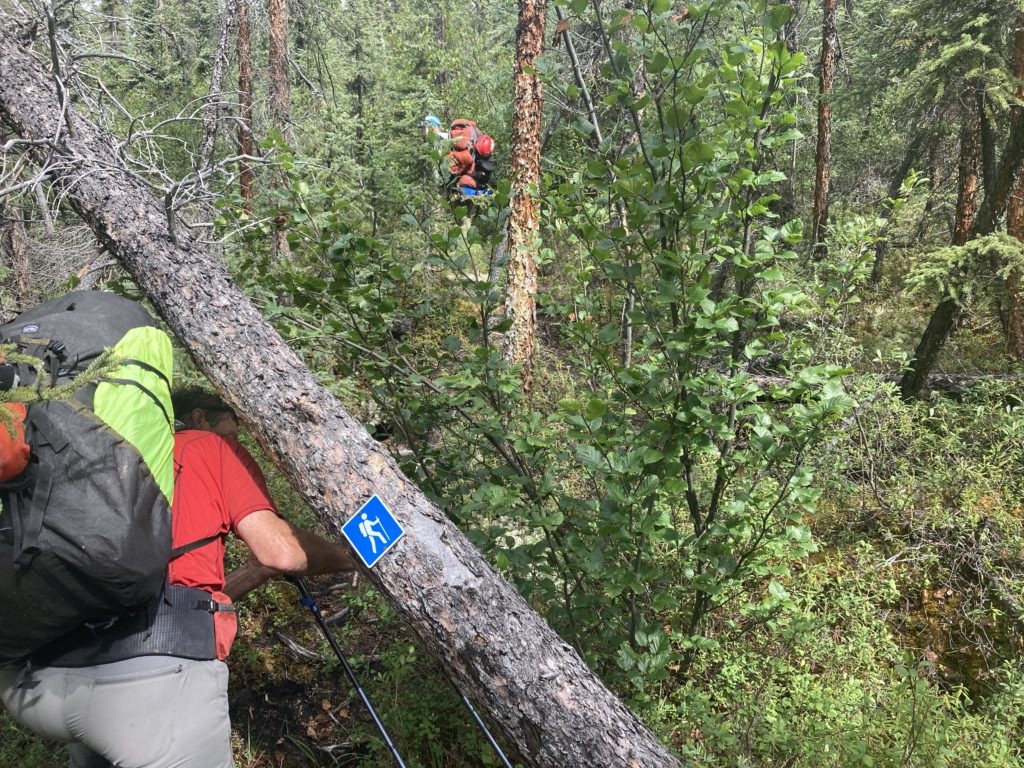 Glacier Lake is about as idyllic as a wilderness lake can get: long and skinny, with some of the biggest granite walls in North America looming above.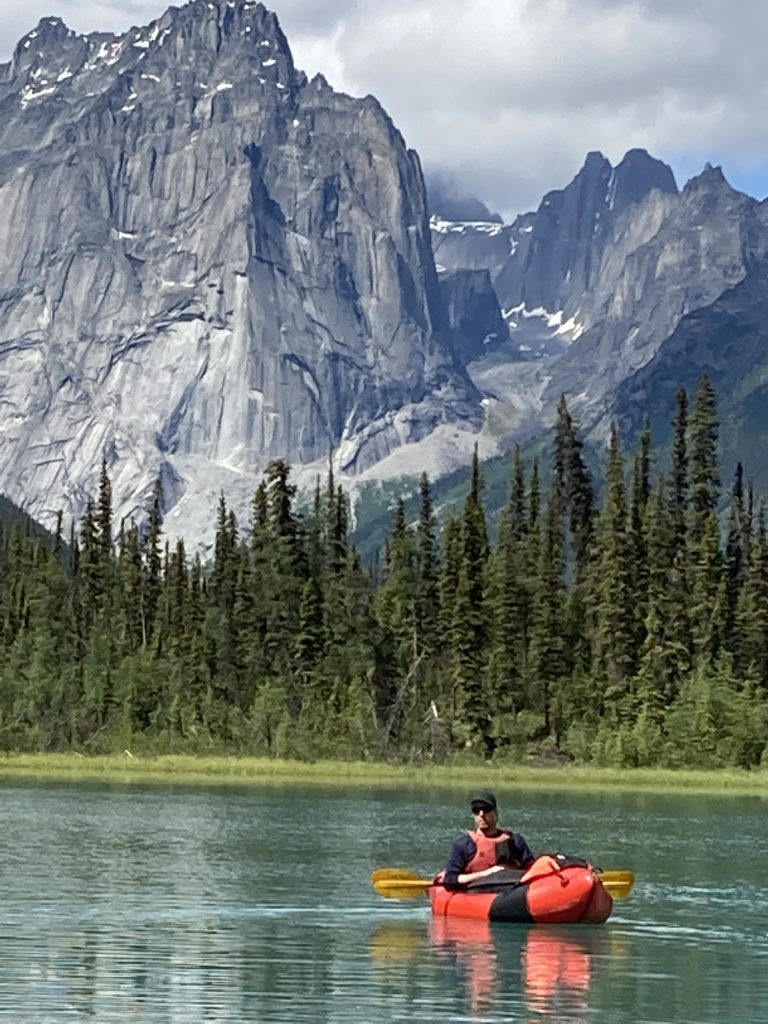 Clearly we weren't the first to paddle the lake, but we weren't sure who would get and use the canoes, especially those with holes chomped in them by Mr. Grizz:
and after drying and storing our boats and assorted boating gear we did a nice lightweight hike the few hours and a few thousand feet up into the Cirque for a couple of days:
While it doesn't quite roll off the tongue as nicely, "they" should probably have named this area "The Cirque of the Unclimbables by Gumbies, But Okay For Hardguys!" The towers are impossibly steep and a couple thousand feet high, and looking at the printed list of climbs that had been stored in some of the park service-supplied secure boxes it is clear that most of the climbs are pretty difficult. But the gem – and the one that probably 90% of the climbers come to do – is the Lotus Flower Tower It's mostly 5.7 to 5.9, with a good chunk of it as chicken heads next to a nice, easily-protected crack. But it's intimidating; pretty dang vertical that goes to slightly overhanging near the top, and 22 pitches (with a great camp-able ledge 2/3 of the way up). In this great summary of the Cirque and the climb the Cirque's main cataloger calls it "one of the best rock climbs in the world."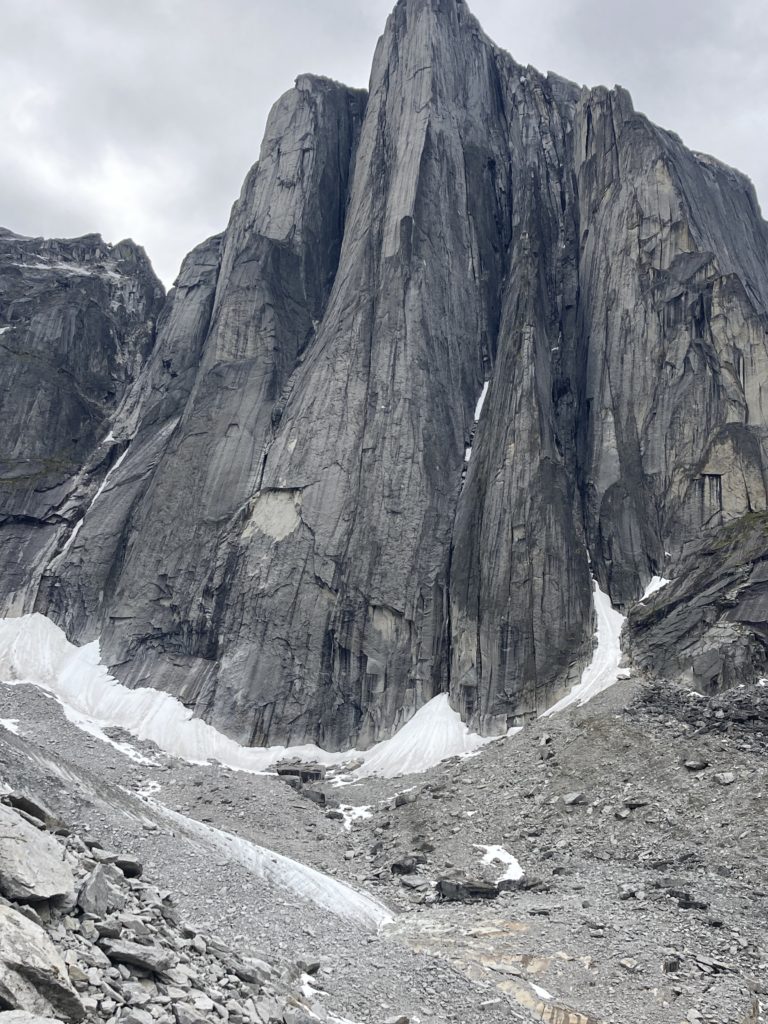 Early on in his enthusiasm for this trip Greg entertained thoughts of packrafting with at least one fellow climber who would be able to help him fire up this famous gem, but alas Greg got stuck with a bunch of gumbies who could only ogle at this amazing hunk o' granite.
But regardless of climbing, the Cirque is one of the most amazing natural places any of us had ever been. Here' s a smattering of pics:
We were able to tromp around in the drainages and crane our necks at the faces and cracks over a couple of days, and finally we had to reluctantly head back down to the lake for the plane that was to deliver us out of the magical place.
The journey home started with an hour long flight to Warren's main place: a compound on a remote lake that is his main base for his fishing guide service. As part of his flying service he takes the far-less-lucrative likes of us packrafters to his lodge and provides a night of lodging and great meals. While he and his wife may be accustomed to it, we packrafters took him up on his hospitality by mowing an impressive amount of food after a few weeks of freeze-dried meals and rationing our calories a bit! Of course, Fox News played incessantly on the big screen, so whether we wanted it or not we were getting fed the news that we'd happily missed in our own personal gigantic wilderness, but the lovely little bungalows with super comfy beds and powerful showers were as appreciated as the good food. And it seems that the mosquitoes had finally awoken; the evening brought an onslaught that most Canadians and Alaskans would likely scoff at, but I was pretty impressed and was happy to leave them outside the cabin door when I slammed it shut.
Like so many parts of Alaska and Canada, the Nahanni area is a bit overwhelming at the number of mountains and rivers and the amount of true wilderness that lies there. And we didn't even get to see the beautiful upper Broken Skull and the famous Virginia Falls that is "the most beautiful in the world and the other amazing canyons downstream of our takeout. But we got a bit of a taste of it, and even our jaded team that's seen and done a fair number of fun and beautiful trips felt it was one of Best Ever. As if to add a bit of icing to our cake, we later found out that the day after we left they had a huge rain event and all our rivers flooded, which no doubt put all our nice gravel bar camps well under water! We weren't sorry to have missed that, though it would have enhanced the adventure factor!
Thanks again to Mike, Paul, Benj, and in particular Greg for being such great pards; I've experienced amazing trips with notso-great folks that diminished the experience a surprising amount, so having such an all star cast made this one that much better, with just the right amount of adventure, safety, competency, confidence, and yucks to enable a fabulous trip.