Even though Ashley and I had an incredible spring and summer of riding our bikes around Europe, we seemingly have an endless capacity for bike tours, so when our old pal Benj Wadsworth invited us to join him and a few others for an Arizona Trail ride this fall we jumped at the chance.
The Arizona Trail stretches from the Mexico border to the Utah border for almost 700 miles and has become an early/late season staple for through-hikers as an alternative to the longer Appalachian and Pacific Crest trails and the higher John Muir and Colorado trails. Unlike the first three that don't allow bikes on any sections, the AZT not only allows bikes on the non-wilderness sections (as does the CO trail_ but it's also quite rideable, albeit over lots of rugged desert singletrack (and a fair bit of flat, easy trails, which are far more fun to ride than walk).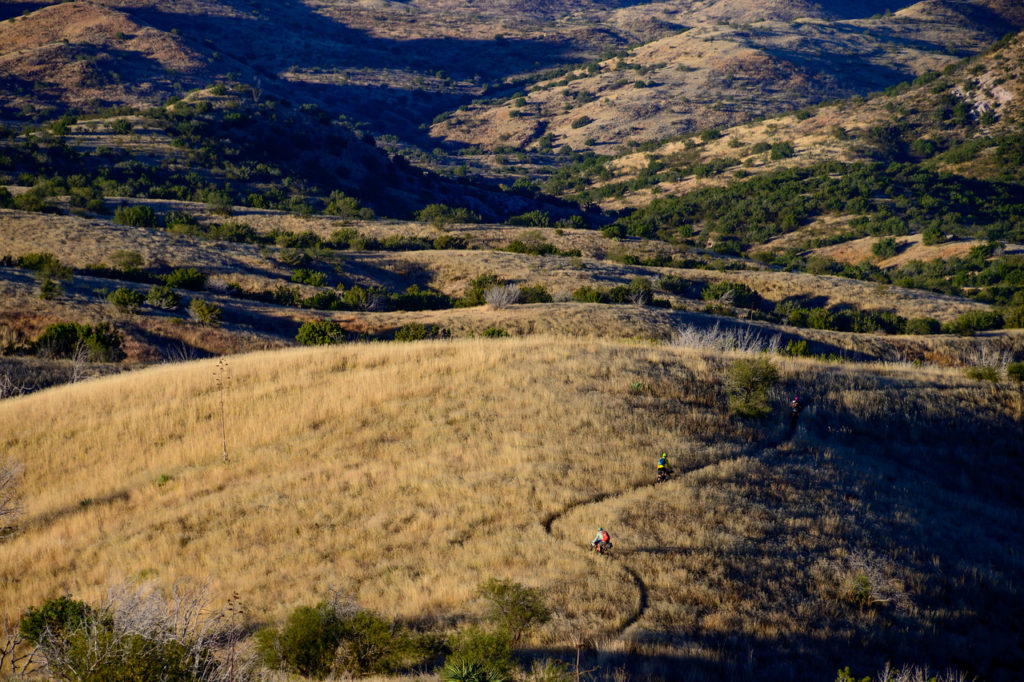 Like the Colorado Trail, the Great Divide trail, Scotland's Highland 550, and others, in addition to being routes, those are also are the site of races, and as it turned out the AZT race was scheduled to go a couple of weeks prior to our trip. Via our old friend Joe Hazel (guru of Grand Canyon beaches and their flood-replenishment, and now Master Trail Builder of Flagstaff) introduced us to John Shilling, who is the "race director" (it's an unofficial race, so perhaps he's an unofficial director?) who – despite the fact that we weren't doing the race and we were peppering him with questions as the race date loomed and commenced – was incredibly helpful in supplying us with great information. One of the bits of information that he had was that a robust monsoon season in AZ had resulted in the vegetation getting a much-needed dousing of water, and in AZ "vegetation" basically means "sharp prickly things". So there were concerns of the trail corridor being overgrown with – mostly – cat's claw. We don't have cat's claw in Utah so we weren't sure what the implications of this was, but just prior to us heading down there we got word that a friend of a friend who's a very accomplished bikepack racer with multiple AZT race finishes dropped out after 200 miles due to too much vegetation abuse and resultant pushing. John had told us "you'll have the advantage of all those racers going through before you go!" which was encouraging, until we realized that there were only 45 racers and plants like cat's claw just laugh about the concept of being affected at all by people just riding by. So somewhat – but not completely – daunted by this news, off to AZ we went, with full agreement that we were doing the commonly-done southern 310 miles, and all of us were totally fine with bypassing sections that we deemed not worthy.
As with many trips, a gaggle of seven or 8 enthusiastic people had gotten whittled down to four who were able to overcome other life-issues and actually went; Benj, Ashley, and Dave Cook, whom Ash used to rip around with in the mid-90's in Seattle when she lived there, but hadn't seen since. It took her about 30 seconds to remember how great of a guy Dave is, and about that long to realize that Dave will no doubt be a lifelone friend, and being a good Pacific NW bike geek, he had both an appropriate bike and was a strong rider.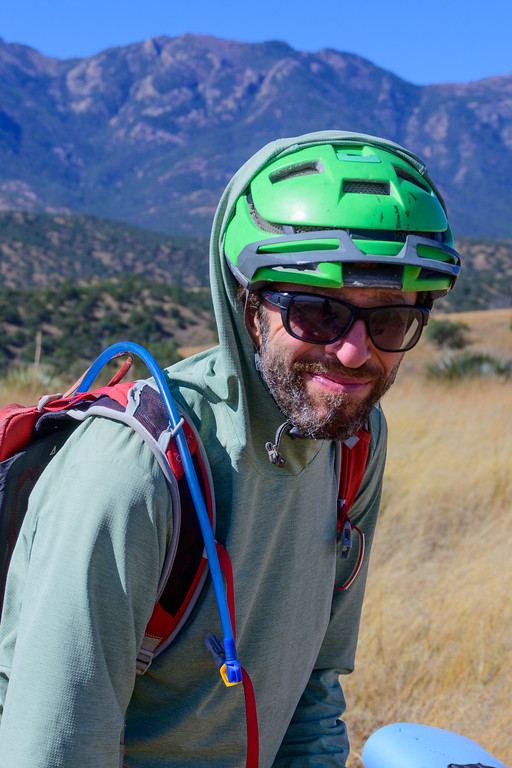 An "appropriate bike" is an important term to consider for any ride, but the AZT is a bit unusual in the bikepacking world in that a new school gravel/adventure bike along the lines of the popular Salsa Cutthroat or somesuch is not the AZT steed. A quick perusal of Bikepacking.com's page highlighting some of the rigs of the AZT race shows that this is a mountain bike ride, and not only do you need a mountain bike but tubeless tires are essentially what made this rocky, spiny trail available to bikes. Since Ashley and I are typically bike "tourers" (using panniers and being okay with riding on roads) instead of bike "packers" (not using panniers and scoffing at the concept of riding on roads) we had to put a bit of thought into that. Her Ibis Ripley is a great bike, but the shock cuts straight through the center of the frame, leaving little space for a frame bag (which is great for gear storage and keeping weight centered and low). Fortunately Gnarly Dude productions (aka our pal Greg Hanlon) was able to create a beautiful little custom bag to fit under the shock on her small frame. Benj has a Giant Trance that worked out well for him, and Dave has a full suspension Scott that has a shock embedded low in the seat tube, leaving the entirety of the main frame triangle available for a frame bag. While I have been proud to be riding a mid-90's Fisher steel 26″ rigid mountain bike for years, I discovered the Kona Unit X, which is an affordable steel 29″ mountain bike that's kinda well-suited for an array of adventures, and was pretty excited to find one available in the West, fortunately at The Path bike shop in Orange County where our friend Brian Blair is the buyer, and he got the one size large that they anticipated coming in this summer earmarked for me.
The logistics of the AZT aren't a gimme; you start in the middle of nowhere, and "end" – depending on where you decide to end – ending in the middle of nowhere, with big swaths of flat, bleak highways in the valley to return. But we were able to find Homegrown Shuttles to get us the coupla hours from Tucson to Montezuma Pass,

Off we went! We had heard that the first bit of rideable trails (that went around wilderness areas) had some of the trail's most ferocious cat claw and was pretty rugged trail, so to avoid getting discouraged and behind early and do a good gear shakedown we elected to bypass the first bit and ride gravel roads, which were great.
This proved to be pretty interesting; we saw a lot of folks who appeared to be hunters looking through their scopes; however, it was not until we also saw a few "Border Security" trucks parked and driving around that we realized that the "hunters" weren't looking for ungulates, they were looking for people. I am not sure where Trump's Wall is relative to this stretch of the border, but it was clear that these folks – who were pretty well-armed – perceived themselves as helping protect America. I couldn't help but imagine that many of the folks trying to get into the country via some really rugged terrain covered with the aforementioned sharp vegetation were desperate and pitiful, and were just trying to join their fellow Hispanics who had already successfully made the journey and were cleaning our hotel rooms and picking our fruits and vegetables.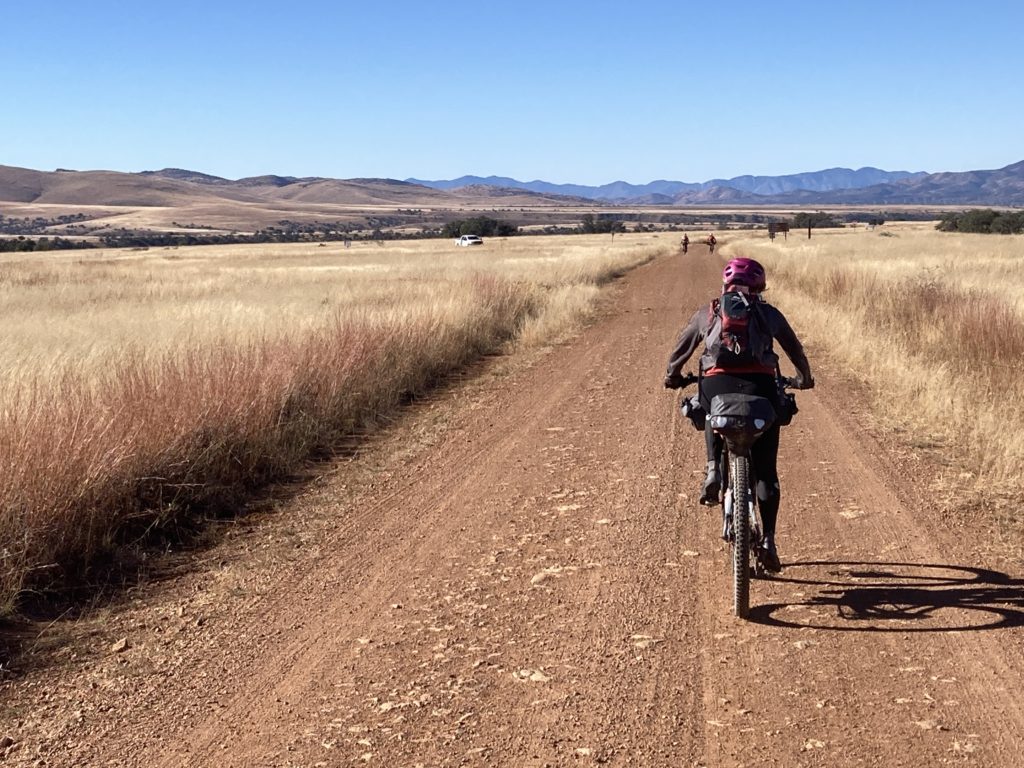 I did see one old coot sitting in his beat up Toyota pickup (vs the huge fancy trucks of the patriots) facing south and couldn't resist wheeling around to chat with him. Bud Bersich is 89 years old and his family has been ranchin' on that swath of land for multiple generations. I had a nice chat with him about the challenges of ranching in a drought, the numbers of cyclists he's seen ("you people are very nice!") and the fact that he could "write a book three inches thick with the crazy shit I've seen out here!"
A short day of riding got us to the unlikely Parker lake (the arroyo going into the lake was bone dry, as was the arroyo exiting the lake), and another short day got us to the quaint little town of Patagonia. We became aware that "quaint" is a pretty new adjective; it seems that in the past it's been more "dusty" and "bleak", but an influx of tourism – recently turbocharged by a young couple who apparently made their fortune as bike touring guides and ambitiously turned an abandoned old west store into the Patagonia Lumber Company, a food, wine, coffee, beer, and entertainment hub of the town. They even got the attention of a guy who had owned bike shops in Missoula and Helena but decided that Patagonia was his next stop, and he had opened his shop in a shack out back just six weeks prior. The day prior to our arrival was the Spirit World 100; a gravel race that is wildly popular and was a clear influx of money and enthusiasm to the town.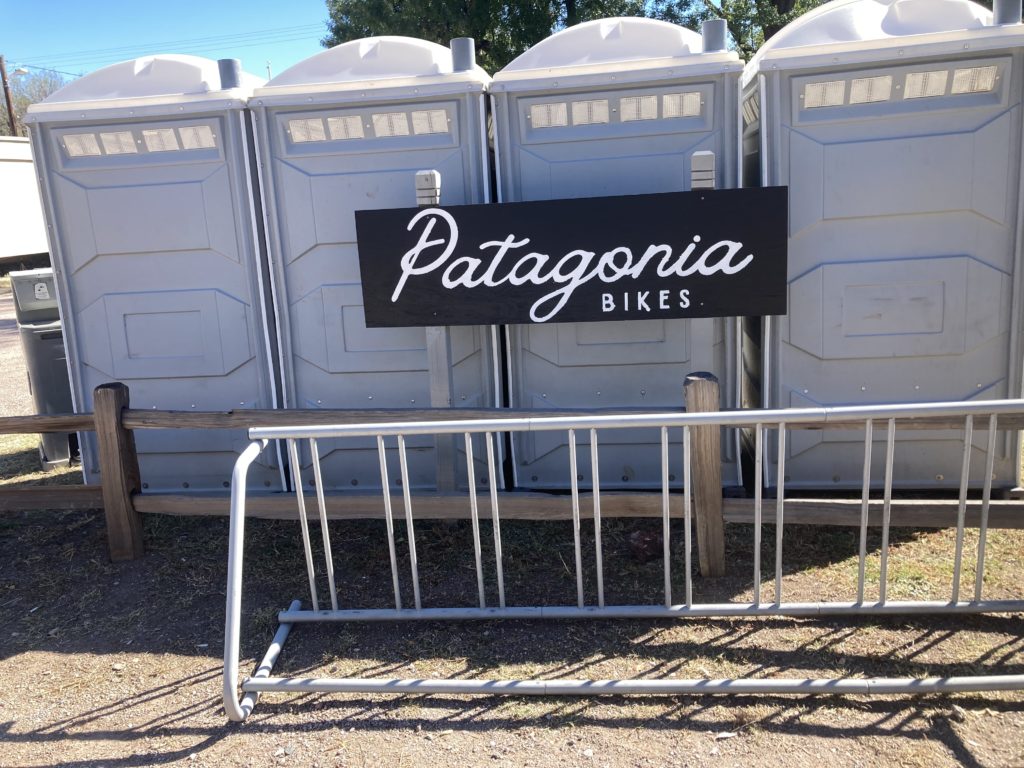 As we rolled into town we saw a little private campground called "Tierra Del Sol" and a couple we met in town had stayed there and recommended it to us. Along the lines of "Nomadland" Mary had wandered around the Southwest in her van looking for a place to land, found a little house with a big yard, and created a little campground for wayward travelers. Showers, a covered outdoor kitchen, and blocks of home insulation for tent pads were some of the amenities, as well as a fire pit.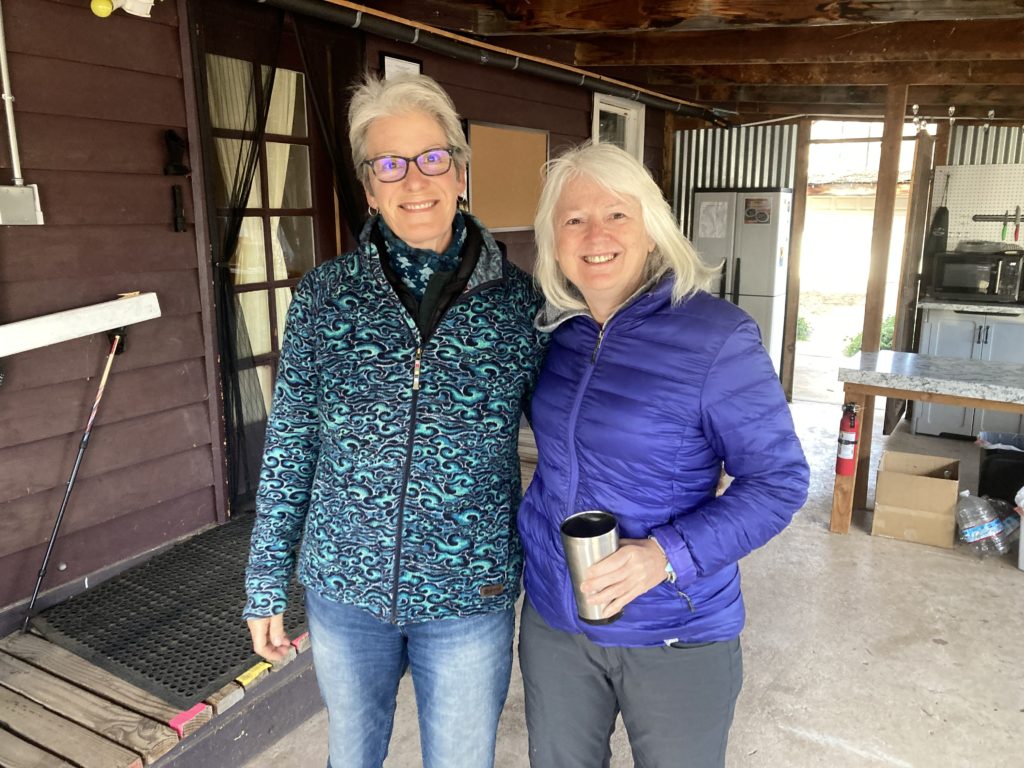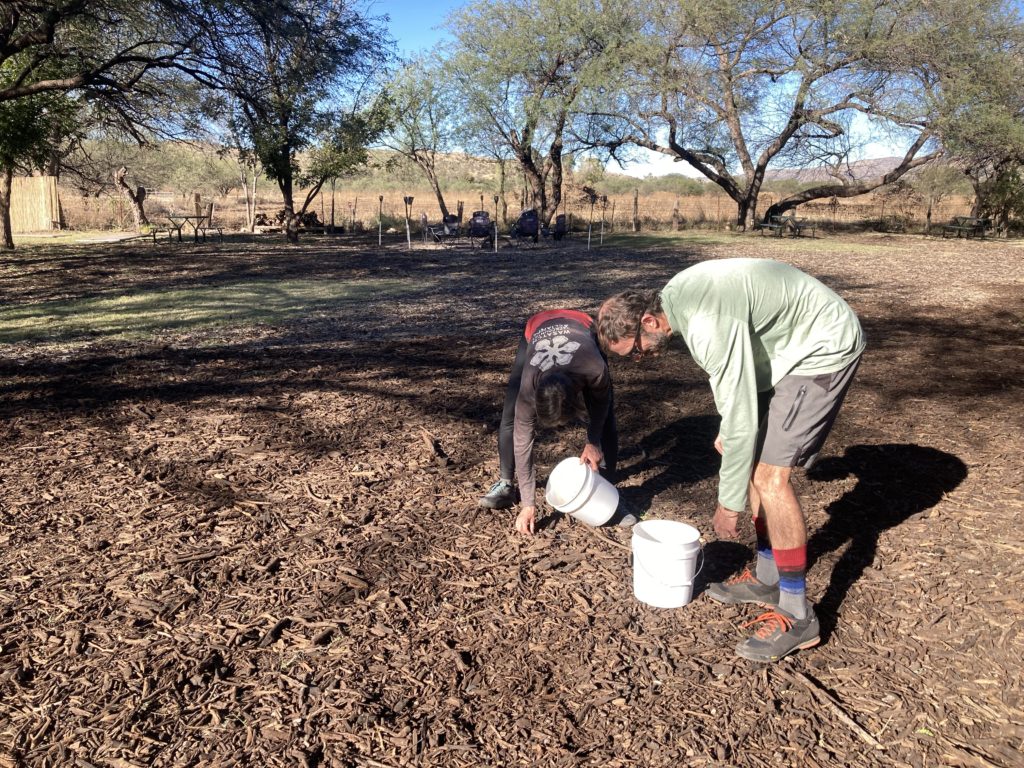 As the temps started to drop with the early sunset Mary sparked up the fire, and we ate our dinners comfy around the fire. Soon enough a few folks came wandering over from the RV park next door; "we LOVE Mary's fire!" These characters – who were indeed straight outta Nomadland themselves – seemed to be stretching the boundaries of gender equality; two people who were very clearly males in every sense of the word were referring to each other as "she", and at one point one of them asked Mary, who originally hailed from Seattle: "So, was there a lot of S & M in Seattle in the 80's?" Huh? Mary had not, but one of them tried to verify it by saying "Oh, I've heard there are a lot of dungeons in the Capitol Hill neighborhood!" It was about that time that the geeky cyclists decided that boy the night was getting long already and got a big ride tomorrow and we gotta hit the sack!
The next morning we finally hit the Arizona Trail proper a few miles outside of Patagonia.  We were pleased to find that indeed the trail was not only rideable, but was great. It was fairly challenging and had a few short hike-a-bikes up steep climbs, but for the most part we rode on through, and while there were certainly some cat's claw and other spiky vegetation we didn't get too shredded as long as we weren't staring at the menacing yucca, agave, cholla, prickly pear, and the super fun, anthropomorphic saguaro cactuses alongside the trail and focused on where we wanted to be we were good to go. Benj did provide a good example of what happens when your mind and/or vision wanders when he went slightly off trail and pretty much quilled himself in the ass! (no picture)
Not surprisingly, as soon as we hit the AZT we started seeing the through-hikers. At Mary's place we met Sensei and Starburst (trail names; that's the deal on the big through hikes); the former is a Japanese French-Canadian:
and the latter is a young woman who had hiked 39 miles that day! And while we didn't get as far as trail names with the folks we passed on the trail, we chatted with a few who had been on the trail for about 6 weeks at that point; starting in early October east of Kanab, UT to get the cool-but-not-cold temps at the high elevation of the Kaibab Plateau and the warm-but-not-too-hot temps of the bottom of the Grand Canyon and the cooler fall temps of the southern parts of the state. Our conversations were quick, and usually involved something to do with water; since these folks were going the opposite direction to us they had seen all the water sources, which is The Most Important Information on the AZT.
We saw one through hiker at a trickling stream and asked him how far it was to the next one, and he started kinda babbling that it was maybe 4, or is it 7, maybe more miles to this kinda little stream that was pretty nice, well not really but it was sorta wet….We ultimately never saw what he described and camped dry with the water stores on our bikes, and in absentia we decided to bestow upon him the trail name of "Space Dust." Ironically, that night Ashley suddenly leapt up with a shriek as she got leg cramps, and when I tried to get up to help her my hamstring locked up as well, so Dave and Benj got the opportunity to watch a fascinating show of simultaneous writhing and yowling (Benj wasn't quite fast enough with his camera to catch it, or maybe he was just to horrified!). After they subsided, we decided to drink a bit more of our precious water and have some good salty freeze dried meals.
There was a bit of civilization on the AZT; at "Kentucky Camp" there are some rebuilt buildings from an ill-fated but ambitious early 1900's mining operation and a nice couple spends weeks there every fall entertaining and watering up AZT hikers.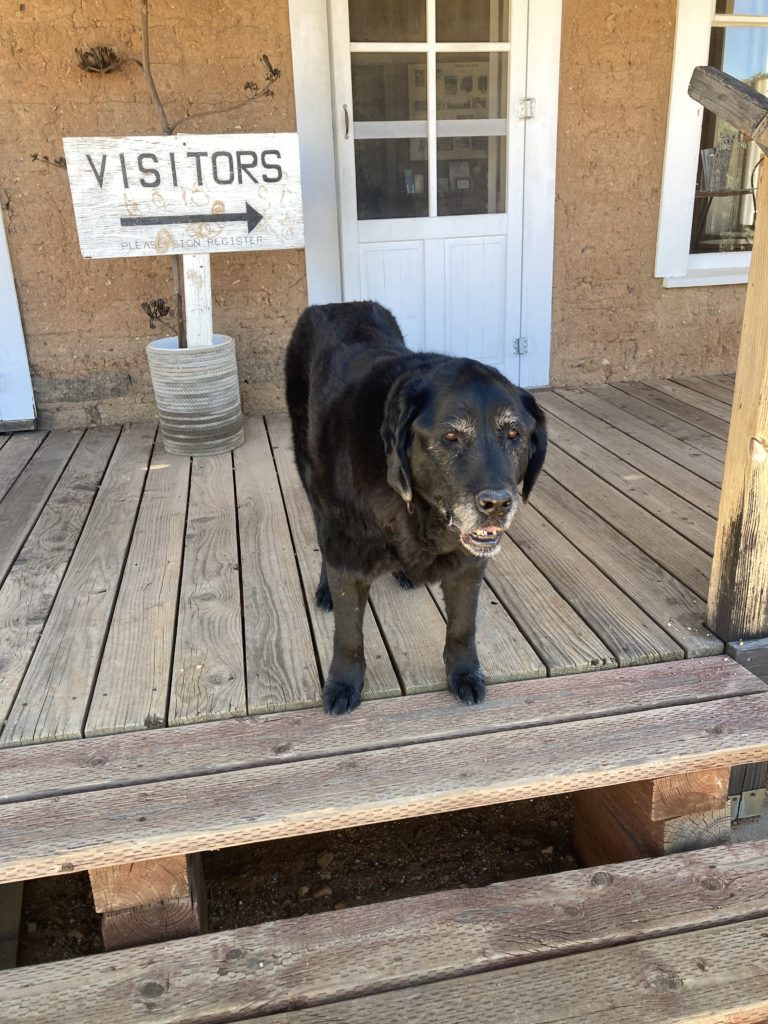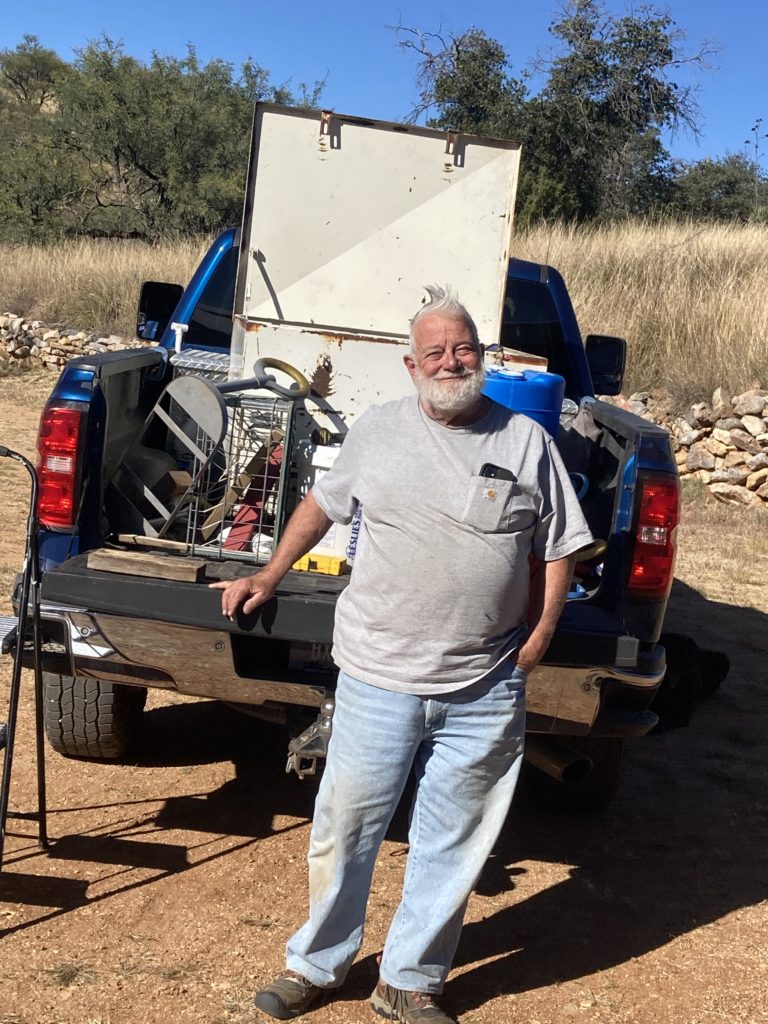 the most amazing was the Magic Camp. A coupla through hikers told us "you gotta stop at Magic Camp!" and we passed through a very nice dispersed campsite and carried on a few more miles, encouraged by cardboard signs saying "just 2 more miles to Magic Camp!" Finally, off in the distance we saw a parked RV, and rolled into the famed Magic Camp, where Jim and Marilyn set up a big tent for 10 days each in the fall and spring to simply be "Trail Angels" (a common term) to AZT hikers and cyclists. They cooked cheeseburgers for dinner and pancakes for breakfast, and clearly loved doing so.
It was interesting that we happened to be there on Election Day, because even though it was clear that they had different social/political views than probably most of the folks they were so graciously serving, we could all agree that trails are great! (and we didn't bother to find out what we disagreed on).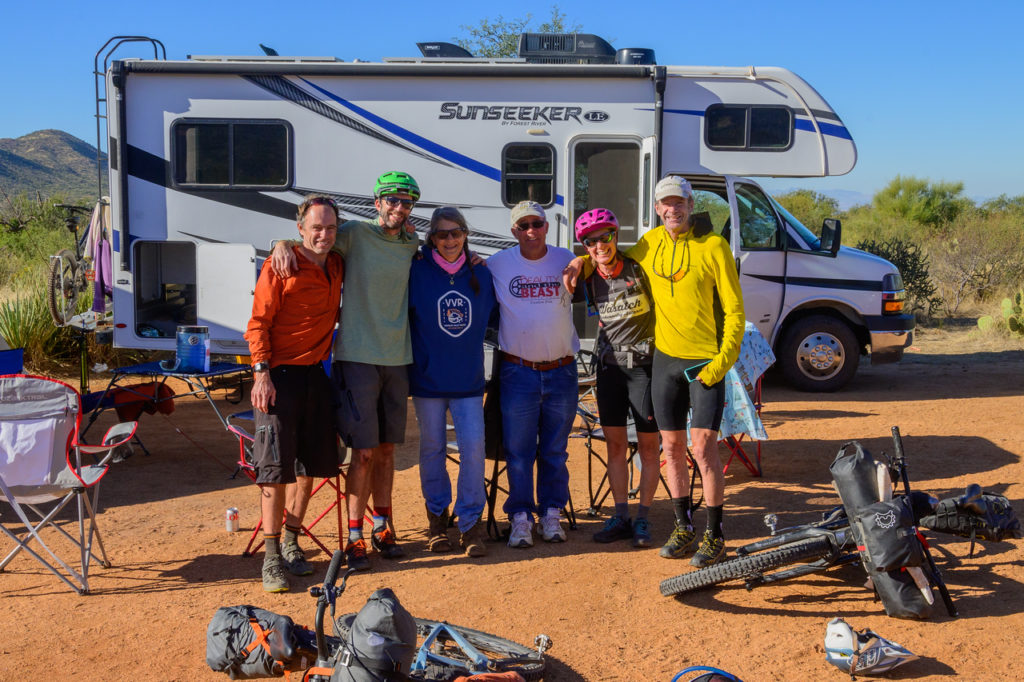 To be continued……