In 2007 I had the good fortune to go to the Wind River range's famous Cirque Of The Towers to climb with my friend Marc Appling, and it was a week I'll never forget. Despite the fact that Marc was a guide in the Tetons and spent his summers dragging gumbies up climbs, he was gracious enough to spend a week with yet another gumby in the Winds, dragging me up the biggest and best climbs I've ever done in the most incredible mountains I've ever been in. Marc is no longer with us (a remembrance I wrote up is here) and I haven't been back to the Winds despite still having the desire (I'm probably even more of a gumby climber now than I was then, despite pulling on a fair bit of plastic at the gym over the last few years). But I finally got a chance to return to the Winds, and fortunately in a fairly big way.
Within a coupla days of each other earlier this summer I was contacted by both my old pals Chad Brackelsberg and Colter Leys who said pretty much the same thing: "you interested in fastpacking the Winds High Route?" I honestly can't say I've ever "fastpacked" per se and hadn't heard of the specific WRHR, but the combination sounded great, so of course I was in. As it turned out we couldn't get the schedule to work out for Chad, so the team was Colter and me. Colter hadn't really heard of the formal WRHR either; he just wanted to git in there and git 'er done as much as possible, but Chad had read light backpacking enthusiast Andrew Skurka's account of his high route and thought it was as good as any, so we said sure, let's do that (sorry Chad, but thanks!).
I rented a car and drove up to Jackson (hot tip: small town airports like getting cars delivered, so one-ways to those towns are relatively cheap) and one the way I listened to the new Packrafting podcast, which used as a first interviewee packrafting pioneer Forrest McCarthy. Forrest is an entertaining personality and worthy of the kickoff for the podcast, and I was rolling up the road enjoying his tales, when the host asked him about his own website and why he had pretty much taken all his trip reports and such down from the interwebs. His answer was that he felt that there was too much info floating around out there that was resulting in overcrowding in the mountains, and "these days you can just buy a gps route, download it into your phone, and head into the hills!" which was ironic, because that's pretty much exactly what I had done the night before. Which of course made me think, and will probably be the genesis of the "rant" side of "gallivants and (occasional) rants"
Colter grew up in the thriving metropolis of Moran Junction, north and east of the Tetons (you gotta keep a sharp eye out for the "post office" sign), and after spending the night in the cabin his parents built in the 70's we headed east over Togwotee pass (going past the trailhead I was at in the snow a for our ski rafting trip a couple of months prior) and dropped Colter's car at a trailhead up out of Dubois, Wyoming.  Colter's dad graciously drove us down to Lander and up into the mountains from there, and soon enough we threw on our packs and starting marching up the Popo Agie river ("po po ja"; not sure how that came about). 
The suggested route goes from the low point of the trip (around 7k) to the top of Wind River Peak at a bit over 13k, almost all on trails, and we banged that out pretty quickly on our first afternoon. We camped at one of the Deep Creek lakes, near a tent that was pretty quiet. After we leapt into the lake to rinse the sweat off, the tent opened and out came a young guy, who thought we were bears. "It's the first time I've ever seen a coupla naked guys and been relieved!"
He said he was from a little town in central Washington, and I surprised him by saying "Yakima? I was just there last week!" He asked if we were doing "the Skurka route" which in turn surprised me, and therefore anticipated that we'd see a lot of folks doing the same (as it turned out, I think he was the only one).
And thus began our journey tromping up and down through the mountains.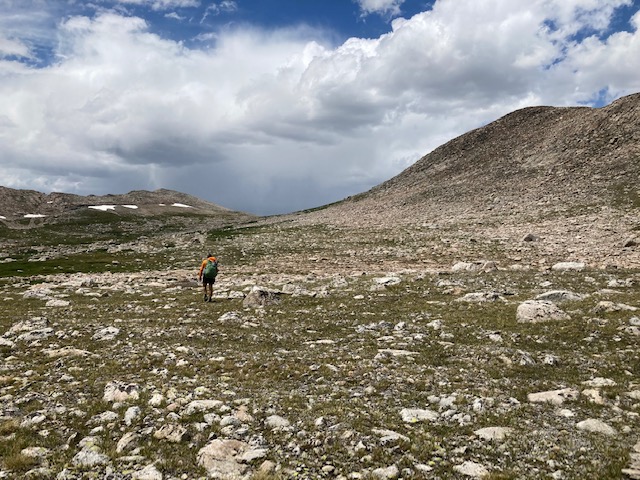 For the next few days we'd climb up a steep talus slope to a high pass, ogle around at the incredible views, wonder how in the hell we were going to traverse the insanely-rugged looking terrain in front of us, then realize that the terrain behind us looked just as insanely rugged, shrug, and keep going!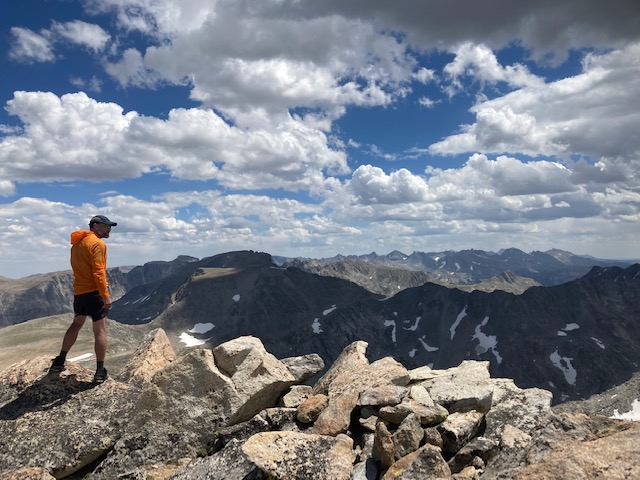 We passed through the Cirque of the Towers, where we saw the most people, mostly because it's one of the shortest access points, has legendary climbing routes, and is one of the most beautiful places on the planet.
One memorable camp we had was right at the base of the very impressive wall of the East Face of Pingora peak:
Which is one of the 50 Classic (ie crowded) Climbs of North America, which is where we also got our best afternoon/evening thunderstorm.   Tucked into our little tarp shelter we wondered how the folks we had seen halfway up the route were doing in in the rain; climbing on wet rock is a tough go.  Later, after the storm abated with the evening cooling:
and we were heading for "bed" I saw a pair of headlamps way high on another route piercing upwards towards a long jaggedy ridge and felt pretty dang comfy and happy snuggling into my bag!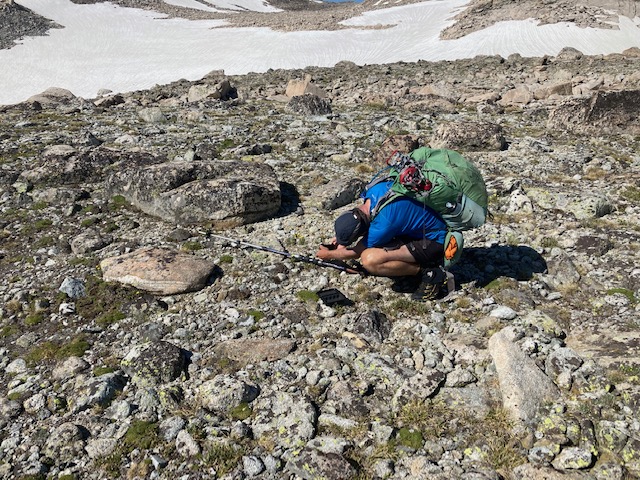 Over another few passes we found ourselves below Gannett Peak, which as the highest point in Wyoming is a popular destination (why do "we" have to always go for the biggest/highest/baddest/fastest? Cue up another rant…..). Since the route is mostly off trail and trails attract people (aside from the route to The Highest Peak) we were enjoying not seeing other folks, so instead of checking into the conga line for the top we carried on up one pass and down the other side.
When we first talked about this trip we used the word "fastpack", which I have realized is akin to "backpacking" the way that bikepacking is to bike touring; pretty much the same, only one sounds cooler than the other. Fastpacking does sound a bit more fun, and I guess it's a way to distinguish folks who have light packs/minimal gear from those luddites who still haul too much? Colter and I started out with 33ish pound packs, and both of us agreed it was too much and there was stuff we coulda left at home. Below are a coupla videos of fastpackin':
Despite being wracked with overwhelming guilt because of Forrest's virtual criticism, we happily used Andrew Skurka's gps track and written beta.  It was clear that he had drawn in the gps track after the trip because the track was mostly straight lines across and over very complex and convoluted terrain, and thus we had to sort of extrapolate it to what we were seeing.   It made us wonder:  how much beta is "too much?"  Taken to an extreme, should you not even take a map?  A map provides a veritable shitton of info, and I know I've helped many folks by drawing routes on a map, and have been helped by people doing the same for me.  We have shelves stuffed with guidebooks, and of course the interwebs are stuffed with beta.  Should we cover our ears and close our eyes to that info 'til we get to The Thing and then figure it out? 
Oh wait, I'm on a gallivant, not a rant. Sorry. But when you're on a multiday hike march march marching it provides plenty of time to ponder these types of questions.
As we worked our way north we got into more snow; I don't think it's because we were that much further north, but because there are more glaciers up there.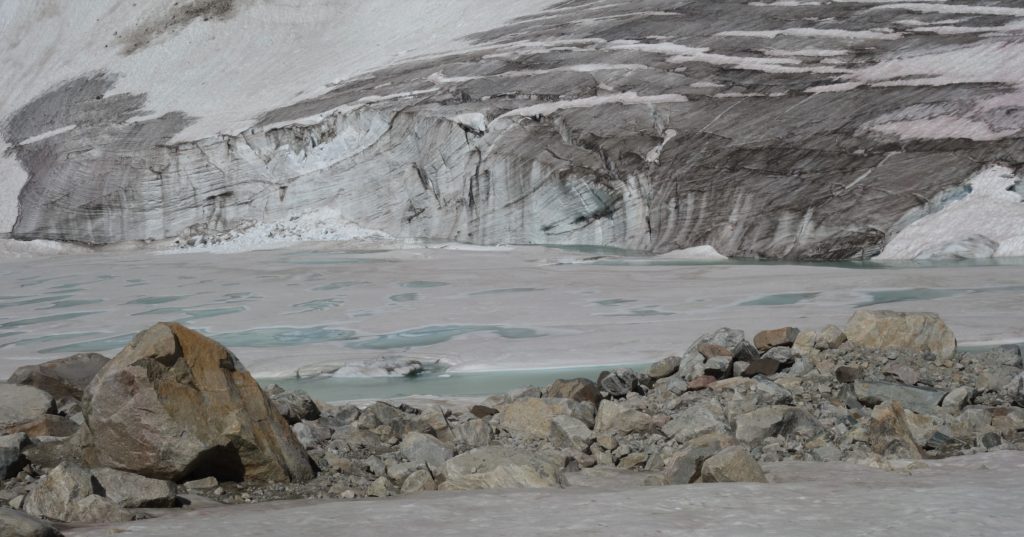 We had carried running shoe crampons with us as well as whippets (one each, as well as one Black Diamond superlight trekking pole for the scree descents) and though we only used them for probably a couple of hours, it doesn't take much descending steep north facing snow slopes in the morning before they soften to make you pretty damn happy about having spikes on your feet.
But most of the trip – in late July in a decent snow year with a cool spring – was boulder-hopping.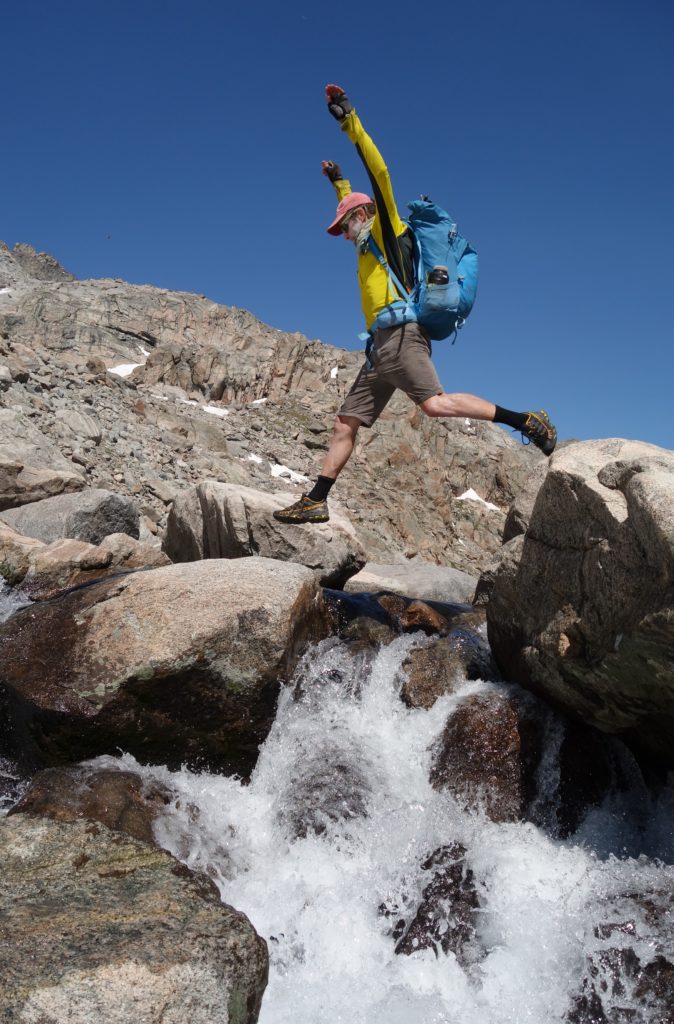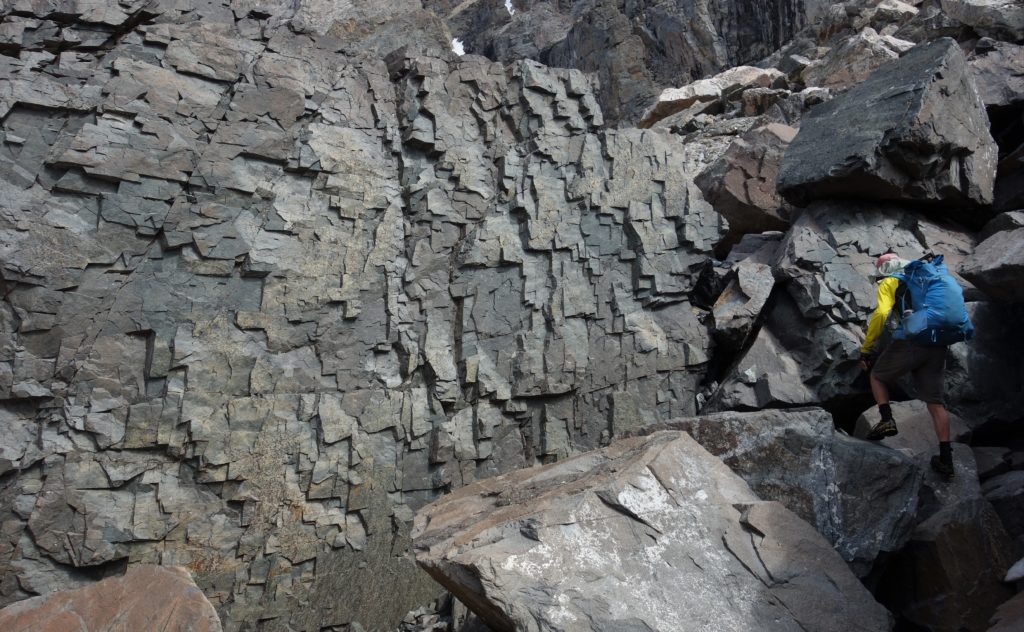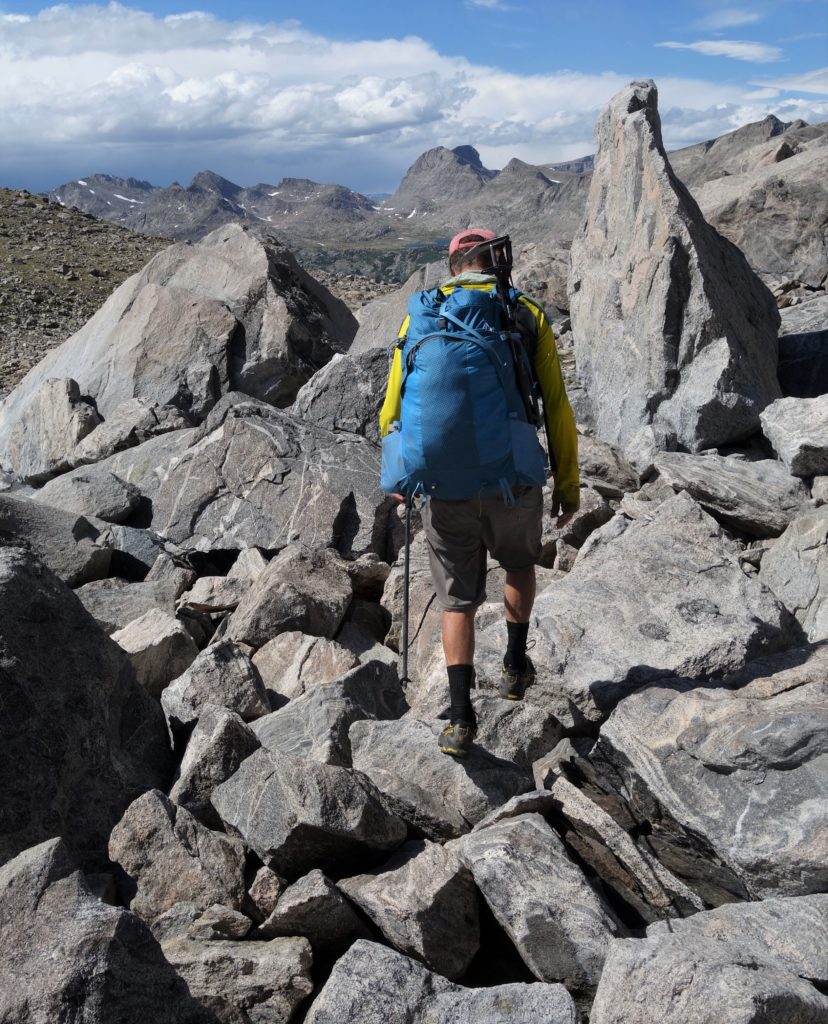 Again, with plenty of march march marching, questions like "how many boulders have we stepped on?" come up that deserve serious consideration.  We estimated that we each stepped on something in the neighborhood of 60,000 boulders.  Sounds like a lot, and when it seems like each of them can roll and are sharp granite the likelihood of a lower-extremity injury is high.  Once many miles into the Sierras I stepped on a rock that flipped back into my shin and poked a hole in it down to the bone, and on a 1 day Gannet quest some years ago a friend tore his leg open pretty bad ¾ of the way to the peak.  I had one scare when a several-hundred pounder rolled when I stepped on it and my foot came down on the downhill side of it; I yipped in fear just as it hit another rock and stopped with it resting against my knee.  After both the hair on the back of my head, my pulse, and my adrenaline all lowered, I carried on, a bit less blithely than before.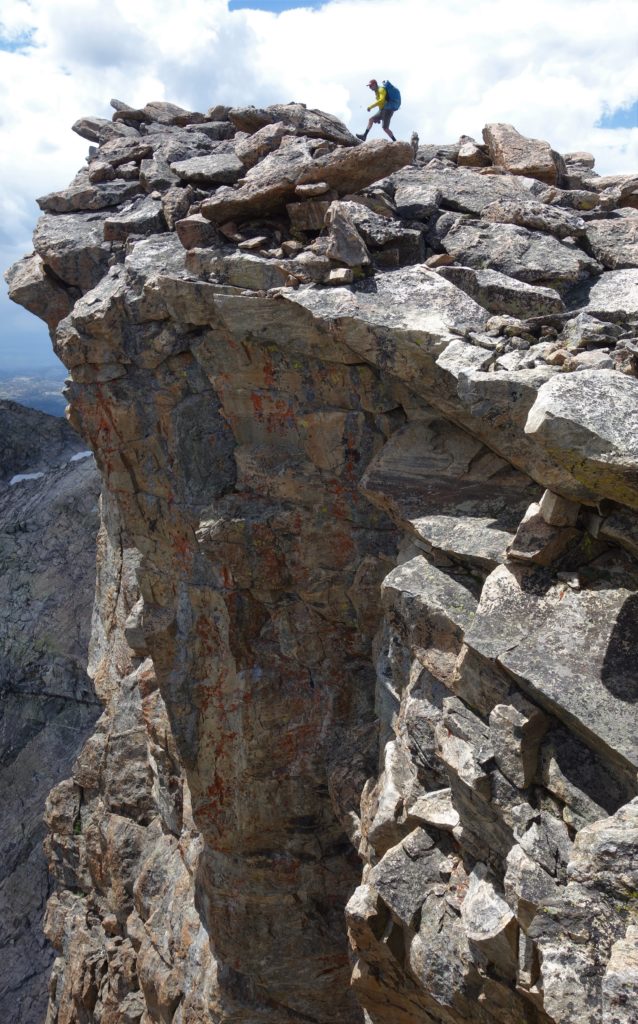 The most demanding bit of the traverse is the end; it involves quite a few miles of exposed terrain above 12,000 feet before the final plunge, which featured either steep sketchy bouldery terrain or a long exposed mesa. Though the InReach had indicated something like a 0% chance of rain that day, the range that seems infamous for its thunderstorms doesn't give a shit about forecasts and started to roil.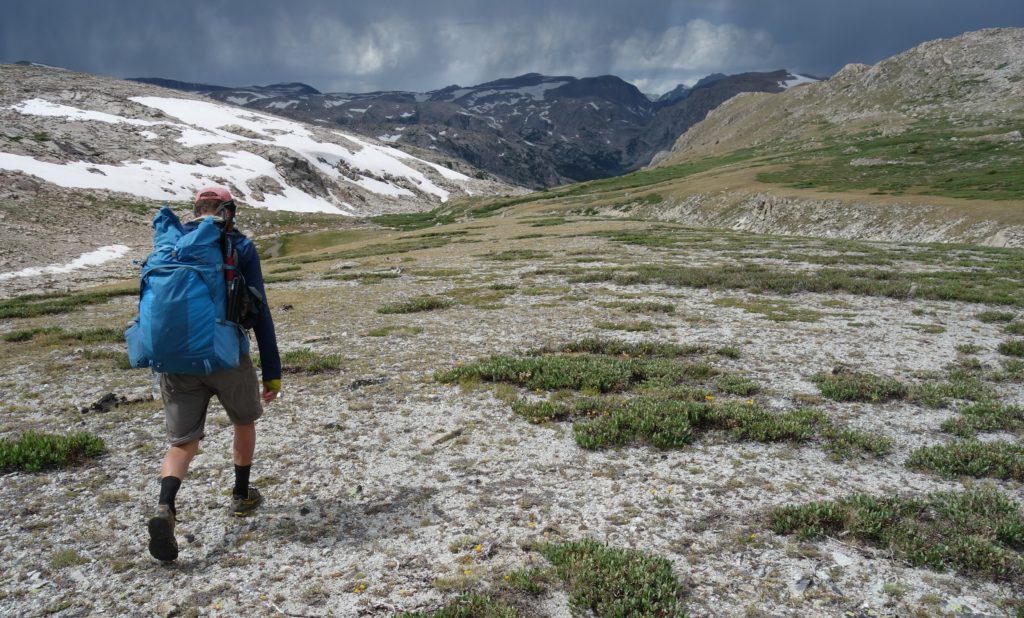 With packs lightened considerably of food after eating 6 days' worth and some incentive, we hammered across the ridge for a few miles of boulder hopping over a series of frustrating false summits as the black clouds to the west marched closer.  To achieve the descent route we had to go over the top of 13+k Downs Mountain, and as we hit the summit the first hailstones started to fall.  But this time the gods and the sun shined on us as a large donut hole formed around our zone and enabled us to skitter down into the valley to a nice low(ish) lakeside camp without sliding off wet rocks or getting fricasseed.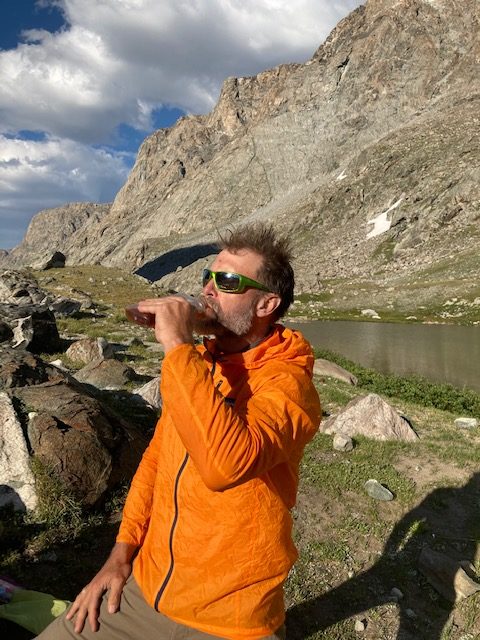 The Winds are an incredible range; the soaring granite towers and walls are as big and dramatic as any anywhere, and there are so many incredible mountain lakes that "they" (whoever "they" are) didn't even bother naming a good chunk of them.  In 2007 I was keen to get a taste of them, and even though I feel like this traverse linked together many of the big valleys, passes, and peaks, there's of course still much more to do.
Thanks to Colter for – as always – being a great pard; he patiently listened to all my rants for 6 days, in addition to march march marching hard through the mountains!